NAC Breda trainer Maurice Steijn is disappointed by the statements of his fellow trainer Mike Snoei of De Graafschap, who questioned compliance with the corona measures at the Breda club. According to Steijn, Snoei does not know what he is talking about.
The Kitchen Champion Division topper between De Graafschap and NAC was postponed last week due to multiple infections at the away club. Snoei then questioned whether NAC could not have prevented this.
"At the beginning of the week we already received signals that something was really going on at NAC. So it is not like Mattijs Manders (general director of NAC, ed.) Says that it came out of the blue," said the coach. from De Graafschap.
Manders already announced that he regretted Snoei statements and now trainer Steijn also speaks harsh words. "I don't understand at all what he wanted. We became ill on purpose, he more or less claimed. How can you say that? We were there as short as possible as a club, kept as much distance as possible", Steijn told VI.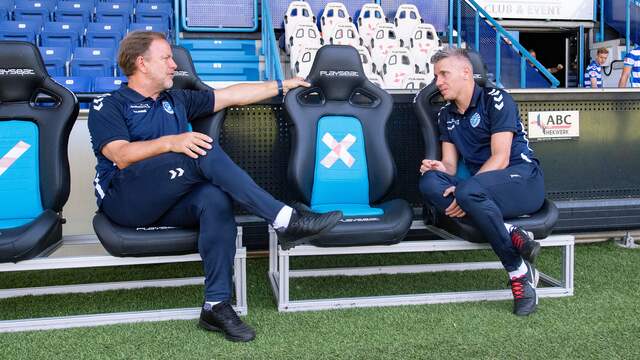 Mike Snoei (left), De Graafschap's trainer. (Photo: Pro Shots)
'Players were in bed for eight days'
Steijn emphasizes that NAC has acted responsibly and that there was no positive test at the club for months. "That is why the suggestion of the trainer of De Graafschap is completely unjustified", he says.
"Moreover, I have players who have been in bed for eight days, one or two of whom are still very bad. Then you have to be careful before you give your opinion. I've always been taught that if you have no knowledge of the matter, that you should especially keep your mouth shut. "
It is remarkable that four employees at De Graafschap have now also tested positive for corona. The duel with Helmond Sport, which also has several infections, has therefore been postponed from Friday to next Monday. The top match between number four De Graafschap and leader NAC has been moved to 11 November.
View the results, the program and the stand in the Kitchen Champion Division
.