Frank de Boer hopes to escape a painful series of statistics on Wednesday during the Nations League game in and against Italy. There is a threat of bitter figures for the new national coach of the Dutch national team.
De Boer started his period with the Orange disappointingly with a 0-1 defeat against Mexico and a 0-0 draw with Bosnia and Herzegovina and could become the third national coach without a win in his first three games.
So far only Bill Townley – he started in 1924 with two draws and a loss – and Dick Advocaat (a draw and two defeats in 1992) had such a bad start as national coach of Orange.
Given the history, there is a good chance that De Boer will join the list with Townley and Advocaat. The Netherlands won only three of the 22 confrontations with Italy and never triumphed on Italian soil.
If the Netherlands also remains without a goal against the four-time world champion, then De Boer is also the first Orange national coach who does not see his team score in his first three games.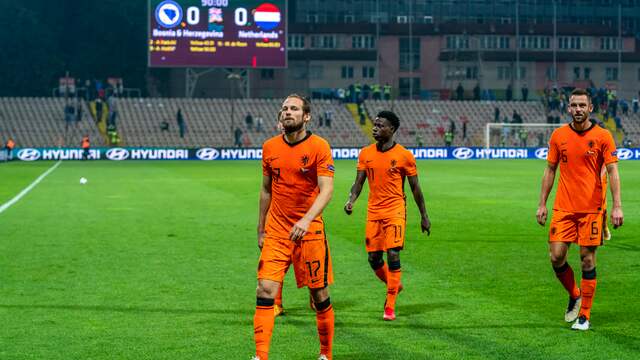 Orange experienced two disappointing international matches led by Frank de Boer. (Photo: Pro Shots)
Longest scoreless streak ever for the Orange?
A result without a hit would also mean that the Netherlands, which prior to the De Boer era, also did not score in the earlier encounter with Italy (0-1), remains dry for the first time in four consecutive international matches.
It only happened four times that the Orange waited for a hit for three games. The last time was in 2009 under Bert van Marwijk, when exhibition matches with Australia, Italy and Paraguay all ended in 0-0.
In the hunt for goals, De Boer in Italy can again use Memphis Depay, who is back from a suspension. The attacker was involved in 22 goals in his last 21 international matches, although he is dry in the shirt of Orange for four duels.
Italy-Netherlands starts Wednesday at 8.45 pm in Stadio Atleti Azzurri d'Italia, the stadium of Atalanta. At the same time, the kick-off is at Poland-Bosnia and Herzegovina, the other game in group A of the Nations League.
View the standings and the program in the Nations League
.