In the Main Hall of the Amsterdam Concertgebouw, the sound of piano playing mingles with that of tapping on keyboards. When a mobile phone rings, everyone looks up in shock. 210 students are blocking the hall for the upcoming exam week. The sweaters, caps and sneakers seem to be a bit out of place in this chic entourage. Some students seem to wander away from the music of the Spanish pianist José Alberto, but most of them are concentrated on their laptop or in their book.
The study session is an initiative of Entrée, the young friends of the Concertgebouw and the Royal Concertgebouw Orchestra. The idea arose before the corona pandemic. Coordinator Micha Windgassen (30): 'There has always been a lack of space for students to study somewhere. But now the demand for study areas due to online lectures has only become more urgent. That is why we decided to hold this around the first exam week in October. '
The Concertgebouw is pleased with the initiative, says spokesman Jacob van der Vlugt. 'We hope that we will attract more students this way. Nowadays you mainly see an older audience at our concerts. ' Perhaps mechanical engineering student Tomas (25) will soon be entering the Concertgebouw again. He doesn't like classical music much, he says. "But I'm reconsidering that now, I like this."
Student of antiquity Bram (24) does listen to classical music at home while studying. He is happy that he can finally move to another place for a while. 'I have to write a 3,000-word paper on wine culture for next week. That will be a bit further. But with this music I do get into a flow. ' Turkish political science student Rüya (20), who is preparing her lecture on 'International Law', is also happy to be in the Main Hall. 'I study a lot at home alone and you get distracted easily.'
Entrée recruits students with the 'classical effect' argument. Classical music would allow you to study better. But according to Professor of Music Cognition Henkjan Honing, this 'Mozart effect' is scientifically outdated. 'New research increasingly indicates that music is actually a distraction. Music you enjoy listening to can make you alert and cheerful. But that is possible with all types of music. '
While classical music may not necessarily improve your ability to concentrate, all places for the study sessions were filled within a day. Climate technology and communication student Kelly (25) thought the concert was very special, but: 'I actually wanted to listen carefully, studying doesn't feel completely grateful enough to the musicians.' Musician José Alberto agrees: 'I was not completely prepared for the fact that I mainly had to play background music. Next time I'm going to adjust my music accordingly. '
Partying by bike
It almost looks like an old-fashioned club night in the Amsterdam Escape. Techno blasts through the speakers with 90 decibels, sweat dances in the disco lights and muscular buttocks move rhythmically to the beat. Only the thirty helmsmen of this party are not at the bar, but on the bicycle pedals. Because the only cocktail served here is a mix of spinning, weightlifting and mindfulness.
Rocycle is the fitness craze where hip people in their twenties and thirties kick calories in 45 minutes with the encouragement of an equally hip instructor. Since the reopening of the gyms, the sport has continued to be popular, but the number of bicycles that fit in a gym is limited, taking into account the one-half meter.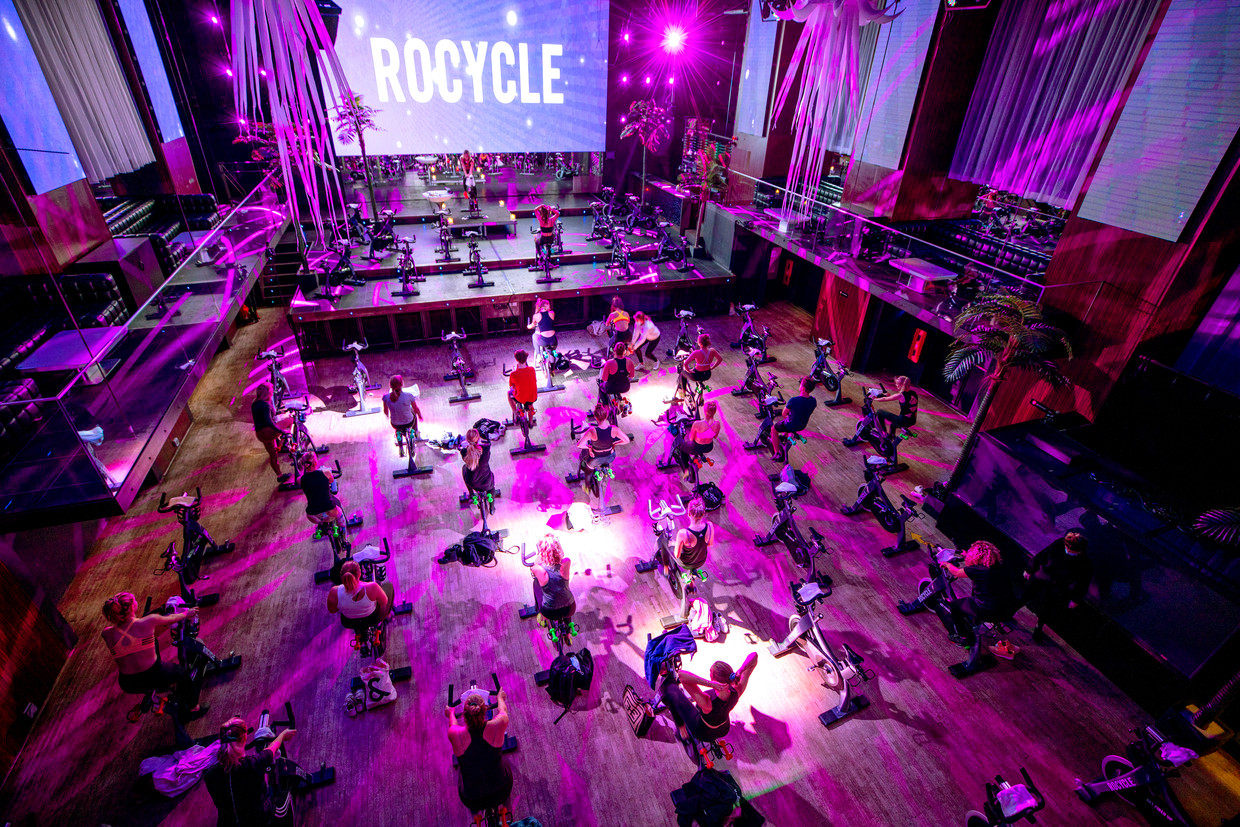 So they looked forward to vacant square meters in the capital. And they found it at the large, iconic nightclub on Rembrandtplein. Like all clubs, it had to close in mid-March and there is still no prospect. "This is now the closest you get to a real party," says studio manager Jesper Bramanis. Even if the question is how long that party can continue with the tightening of the corona rules.
Working from home on location
To combat vacancy, more and more hotels are opening their doors to people who like to 'work from home on location'. A number of them can be booked through Meow (My Extraordinary Workspace), a platform that 'links professionals and premium hotels for an exceptional working environment'.
This exceptional working environment is evident on a rainy Thursday in the lobby of the Pestana Riverside Hotel. The hotel on the Amsterdam Amstel, part of a Portuguese chain, is one of thirteen hotels in Amsterdam that pop up in the Meow app. Furthermore, only a hotel in Rotterdam is participating in this new initiative for the time being.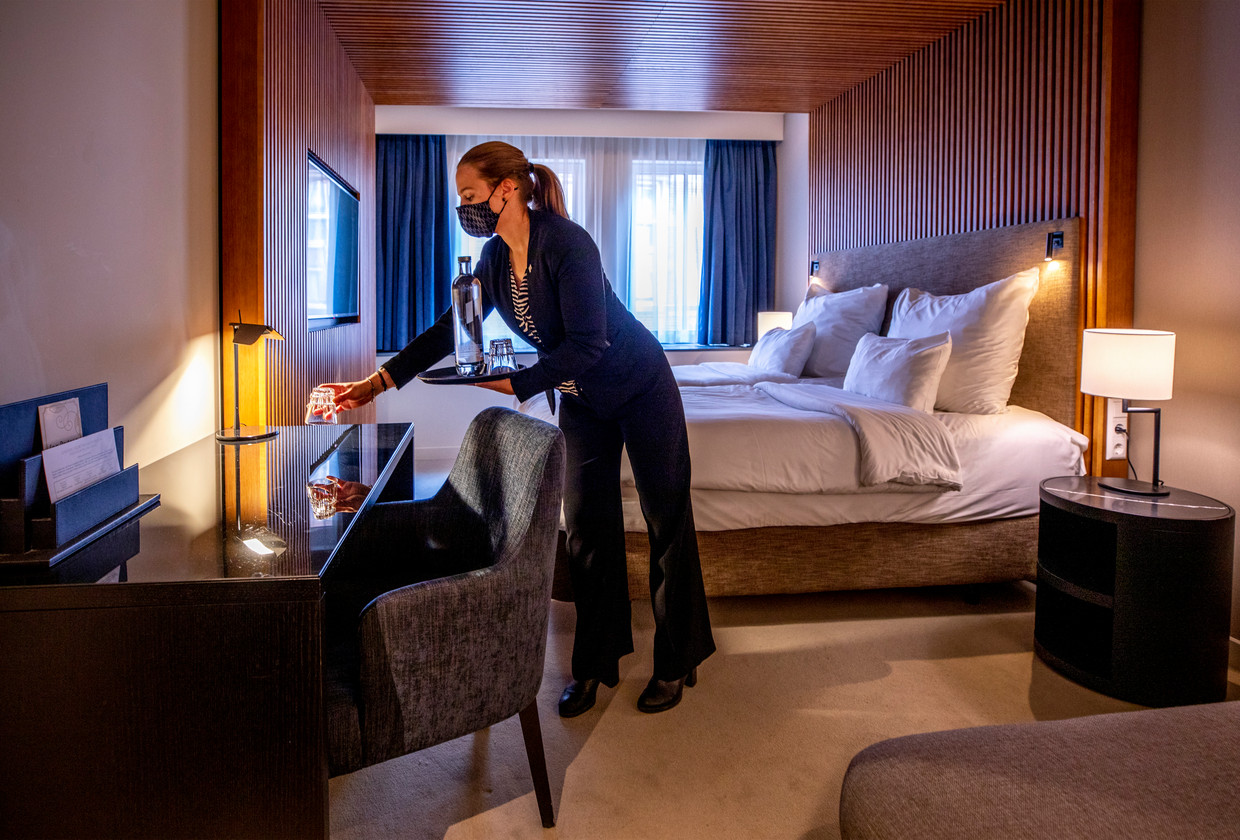 The price of 15 euros per person includes a drink, electricity, WiFi and a quiet workplace. Exercise in the on-site gym and a dip in the pool are free of charge at the Pestana, although many other hotels require payment.
And it is certainly quiet. Until the end of the afternoon, four other guests shuffled past. A young couple is waiting with suitcases in the lobby for their taxi to pick them up. An elderly gentleman, businessman type, checks in. The lady who walks in and out turns out to be replacing the flowers in the hall.
Furthermore, the staff has their fingers crossed. Also in the restaurant, where no one else is eating. We are thanked extensively for coming several times.