It makes Rafael Nadal proud that he equaled Roger Federer on Sunday with his 20th Grand Slam title and that his rival congratulated him directly. The Spaniard reached his milestone by winning Roland Garros for the thirteenth time.
Immediately after the final, Federer announced on social media that he had a lot of respect for Nadal. "We have motivated each other to become better players," wrote the Swiss, who already ended his season in June due to a knee injury, among other things.
Nadal was confronted with those words at the press conference after his convincing victory over Novak Djokovic (6-0, 6-2 and 7-5). "It's nice that he says that. As everyone knows, we have a good relationship and we have a lot of respect for each other," said the Spaniard.
"In a way he is happy when I win and vice versa I also like it when he does well. Our good relationship makes me feel good. We have been each other's competitors for a long time, I can only thank him for that."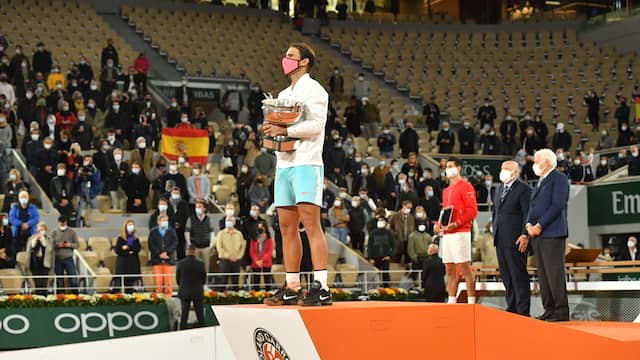 Rafael Nadal on the podium in Paris, me behind Novak Djokovic. (Photo: Pro Shots)
'This is one of my most valuable titles'
Nadal is also proud of the level he achieved against Djokovic. The lawn specialist gave the seventeen-time Grand Slam winner no chance and got the job done in three sets.
"I reached a great level for 2.5 sets, I cannot ignore that. Otherwise I would not achieve this result. I was there when I had to and I am proud of that", he said.
"It gives a lot of satisfaction, also given the circumstances, which were not ideal. But I was able to adapt to that, remained positive and accepted it. This is one of the Roland Garros titles that means the most to me."
.