In the longest and most special NBA season, LeBron James returned to his throne. The King led Los Angeles Lakers to the title at the age of 35, fulfilling his promise to Lakers legend Kobe Bryant, who died in January.
On January 28, two days after being woken up by his teammate Anthony Davis on a surreal flight from Philadelphia to Los Angeles to the news that Bryant and his 13-year-old daughter Gianna had been killed in a helicopter accident in California, James focuses in an emotional Instagram message directly to its predecessor as the Lakers superstar.
"I'm trying to write something, but I cry every time I think about you," James writes to Bryant. "I promise I will continue your legacy. You mean so much to all of us here at the Lakers and it is now my responsibility to take it all in and carry on with what you started."
258 days later, on day 356 of the 2019/2020 NBA season, James and his teammates secured the 17th title for the Lakers in a bubble at Disney World by winning 106-93 in the sixth game of the final. Miami Heat. It was the Los Angeles basketball club's first championship since 2010, when Bryant captured his fifth title with the Lakers.
"Since Kobe's tragic accident, we wanted to do this for him, we didn't want to disappoint him," Davis said on Sunday (local time) after the decisive win over the Heat. "I know Kobe looks at us from above and is proud of us. When he came to games this season, he always said, 'This is your year.' Kobe was a big brother to all of us and this title belongs to him. "
James also dedicated his fourth NBA title to Bryant. "We were close as a team before the accident, but that tragedy brought us even closer," said the now four-time most valuable player (MVP) of the NBA Finals. "Kobe's death brought the whole basketball world together, but it was even more important to us. From then on, we have said to each other, 'This is bigger than us."
'James is the best basketball player ever'
Bryant's death was the most tragic moment of the Lakers' championship year, but by no means the only hurdle. James' team's unique season started over a year ago with exhibition games in China, just as the NBA and the Chinese government had come into conflict following a tweet from the Houston Rockets technical director, in which he expressed his support for the protests in Hong Kong.
Six months later came the corona crisis, which halted the NBA season from March 11 to July 30 and left the Lakers – mostly without family – in a lonely bubble in Florida for the past three months. And at the end of August, the play-offs were stopped for a few days at the initiative of the players in protest against the shooting of the black American Jacob Blake.
Despite all that distraction, James, who missed quite a few games last season through injury and missed the play-off with the Lakers, was once again at his best on the field when he needed to. With averages of 27.6 points, 10.8 rebounds and 8.8 assists per game in 21 playoff duels, the American proved that he is still one of the best basketball players in the world in his seventeenth NBA season.
"I've always believed in LeBron James," said Lakers coach Frank Vogel, who immediately became champion in his first season in LA. "He's the best basketball player this world has ever seen. I know for sure now that I've coached him."
James called the title with the Lakers one of the greatest achievements of his career. "For the past year and a half, since my injury, I felt like I had something to prove. There are still doubts about me, whether I have performed enough to be one of the very best basketball players ever. That has really affected me this season. motivated. "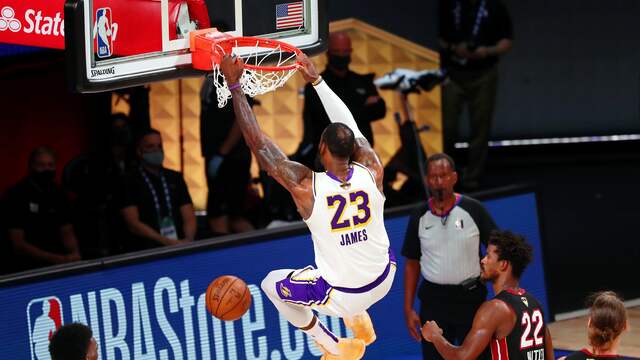 LeBron James was in the NBA Finals for the tenth time and took his fourth title. (Photo: Pro Shots)
.