When Novak Djokovic wins Roland Garros for the second time in his career on Sunday, he will be in a row with Rod Laver and Roy Emerson. The Serb has to beat defending champion Rafael Nadal in the final.
With a second title on the clay court in Paris, Djokovic becomes the third player ever, and the first player in the Open Era to have won all Grand Slam tournaments at least twice. Only Laver and Emerson managed to do that earlier in the 1960s.
The 33-year-old Djokovic won his only Roland Garros title in 2016. In addition, he was the strongest eight times at the Australian Open, and he triumphed five times at Wimbledon and three times at the US Open.
The number one in the world can therefore win a Grand Slam tournament for the eighteenth time on Sunday. With that he remains behind record holder Roger Federer (twenty victories) and Nadal (nineteen) the number three in the rankings with the most titles in the four major tournaments.
Nadal is therefore on a level with Federer, who is absent in Paris, when he settles with Djokovic in the final. The Spaniard won Roland Garros no less than twelve times, won the US Open four times and claimed the title at the Australian Open once.
The 34-year-old Nadal is in the final battle of Roland Garros for the thirteenth time. This makes him the only record holder in terms of the number of final places at one Grand Slam tournament. He shared the record with Federer, who reached the Wimbledon final twelve times.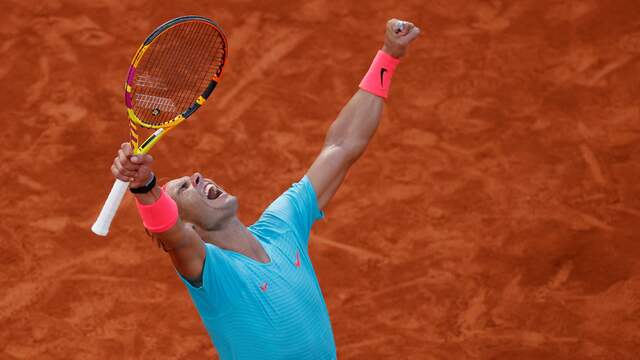 Rafael Nadal won Roland Garros from 2005 to 2008, from 2010 to 2014 and from 2017 to 2019. (Photo: Pro Shots)
Nadal can book 100th victory at Roland Garros
For Djokovic and Nadal, it will be their ninth meeting in a Grand Slam final. Both won four times. Only Nadal and Federer faced each other the same amount of times in the Open Era in a final piece at that level.
In total, Djokovic and Nadal met 55 times before. The position in the mutual confrontations is 29-26 in favor of the Serbian, but at Roland Garros he only won one of the seven matches against the Majorcan: in the quarterfinals in 2015.
For Nadal, that was only his second and last defeat in Paris. In 2009 he lost in the fourth round against the Swede Robin Söderling for the first time. The global number two can even win his hundredth match on the French clay on Sunday.
The final at Roland Garros between Nadal and Djokovic starts on Sunday at 3 p.m. The Spaniard, who is still without a set loss during this edition, can win the tournament for the fourth time in a row.
.