FC Volendam has played a lot in the Kitchen Champion Division on Monday evening. A visit to Young AZ was won 2-6. Earlier in the evening, De Graafschap booked a hard-fought 1-2 victory over Helmond Sport.
In Wijdewormer, an unleashed Volendam led 0-3 within 23 minutes by goals from Marco Tol, Francesco Antonucci and Martijn Kaars. After a hit by AZ's Mohamed Taabouni, Ibrahim El Kadiri increased the margin to three again before half time.
After the break it became 2-4 by Yusuf Barasi, but the defeat for the home team was more painful due to late goals from Derry John Murkin and Samuele Mulattieri. Volendam, where Nick Doodeman gave no fewer than five assists, settles in the second tier thanks to the victory.
Number four De Graafschap, which drew 0-0 at Go Ahead Eagles in the previous round, did not receive the victory at Helmond Sport. Toine van Huizen did make it 0-1 early, but Lance Duijvestijn quickly leveled the score again.
Only in the final phase did De Graafschap take the victory. About ten minutes before the end, Johnatan Opoku scored the winning goal with his second goal of the season.
Goal-rich second half in Amsterdam
At Jong Ajax-Jong FC Utrecht (3-2), all goals fell in the second half. Sontje Hansen, Terrence Douglas and Brian Brobbey scored for the team from Amsterdam, who are in the middle of the Kitchen Champion Division. Jeredy Hilterman made the Utrecht hits.
Sub-top Roda seemed to be on his way to a victory over Telstar thanks to a goal by Erik Falkenburg, but a penalty by Welat Cagro in the 88th minute gave the visitors a point.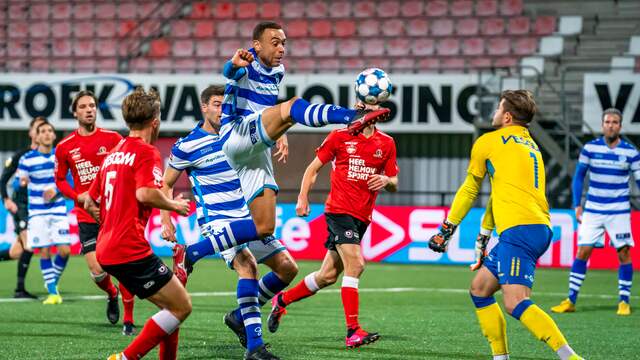 Johnatan Opoku made the winning goal at Helmond Sport-De Graafschap. (Photo: Pro Shots)
View the results, the stand and the program in the Kitchen Champion Division
.