You arrived in the United States on Monday. Did you expect President Trump to be so adored there?
'I've been writing about the American elections from Amsterdam for some time now and of course I knew that the country is extremely polarized, but I didn't expect it to be that bad. For example, I asked where the Democrats office is and no one knew. But yes, I am in the town of Rome, deep in Trump country. In the 2016 election, 75 percent of the population here voted for Trump.
'I now really feel how divided the country is. And how bitterly people talk about each other. They really hate each other. They see each other as traitors. I was at a gathering of Republican women and they told me they don't even know Democrats. Yes one of them had one as a neighbor, but she always argued with that. '
How do the Americans themselves view this division. Doesn't seem nice to me?

'Of course they don't like that either. They recognize it, but they don't see a solution either. And if you keep asking questions, they quickly blame the other party. I ask people since when they think the country has become so divided. Many people say it came into being after the 2000 elections when George W. Bush won a narrow victory over Al Gore and Democrats contested the result.
Americans note that since then the media has become increasingly divided and parallel worlds have emerged. It is. If you just watch Fox News, or just CNN, you will be presented with a totally different world view. I spoke to someone who said America hasn't been so divided since the Civil War. '
But is there no criticism of Trump at all?

'There are people who think that he is divisive and cannot tolerate his aggressive tone. But that pales in comparison to the things these Republicans want to keep going, like the right to bear arms or the pro-life movement. I spoke to a highly educated woman at a shooting club who made that clear to me. She said, "Of course it's an idiot." And when I asked why she voted for him, she mentioned all those things from the typically conservative Republican ideology.
'For them it's not about the dolls, but about preserving their way of life. If you don't like a party leader in the Netherlands, you can transfer to a comparable party. Here you only have two parties that are diametrically opposed, then you have a lot to lose. That also makes society so hardened. In the Netherlands, you have to go through a door together again after the elections to form a coalition. That keeps the debate civilized. Here all brakes are released. '
You ran into recently elected congressman Marjorie Taylor Greene in a burger joint. She was a member of QAnon after all. Doesn't anyone shy away from that?

'Yes it was crazy that I ran into her, just at the bar in jeans with a cap on. For real one of the guys, that's also its appeal. I had been trying in vain to reach her for an interview for weeks. Greene has really said things that have raised many eyebrows. She later denied that a bit, but she got close to the conspiracy theory network QAnon, where the craziest things are claimed about pedophile networks and politicians who drink the blood of children.
'People are simply no longer contradicted. When you ask people about it, they say they don't know about it or they don't care. Trump also gets away with that tactic: pretending that he knows nothing about the extremities, so not explicitly renouncing them and keeping those voters on board. He then says' QAnon? Isn't that the club that is against pedophiles? '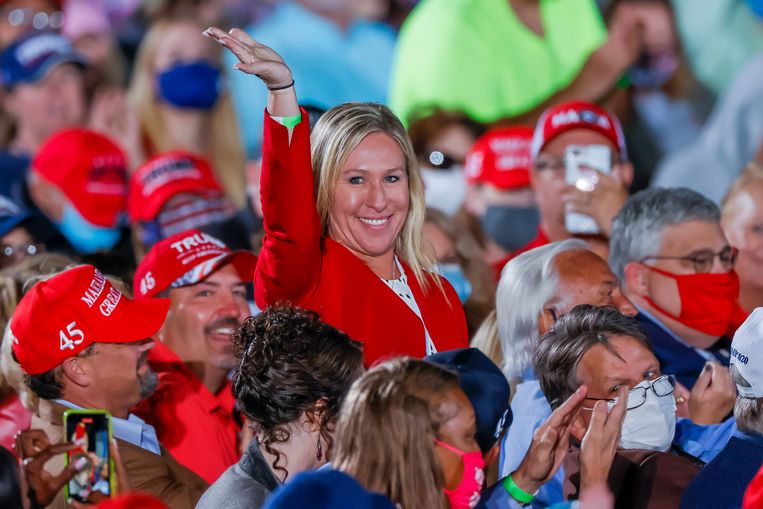 But apparently there are still doubters; the state of Georgia seems to be going to Democrats for the first time since 1992?

In cities and several districts in Georgia, Americans are much more progressive. There, people are really fed up with the division and hardening in society. They do not like the incitement and the tone of the current president, but they also think, for example, that Trump is doing very well economically and therefore still have doubts. Everything here now depends on the turnout of black voters. '
How do they view you as a journalist?

'People are really, really friendly. As an outsider I am received warmly and welcomed everywhere. The only difference is that Republicans shake hands and Democrats are more likely to wear a face mask. It is actually as if corona does not exist here and you will soon behave accordingly. I also catch myself sometimes forgetting and adopting their behavior. So if someone shakes my hand, I'll shake it anyway. When I go back to the car I disinfect my hands. But I now understand why the number of infections here remains so high. '
The corona approach has probably got Trump into trouble, especially in the other one swing state where you're going: Florida.

Trump won Florida last time thanks to the elderly and conservative Latinos. It is very doubtful whether he will be able to keep it. Older people are of course critical now, because many of them have died. He tries to keep Latinos close by portraying Biden as a socialist who wants to establish the right to abortion. Trump is now fighting like a lion for his reelection in these states. In any case, it won't be his fault. '


Also read
Catch up on the US election in POTUS the podcast
Can you still keep up with the American election news? From in the editorial room of de Volkskrant Gijs Groenteman, Pieter Klok and Natalie Righton inform you every week POTUS the podcast.
Trump or Biden? Read all about the American election circus here
Can Joe Biden dissuade President Donald Trump from a second term? And to what extent does the outcome of this race affect life in Europe? You can read everything about the American presidential elections in this file.
Quiz: Test your knowledge about the US election
On Nov. 3, Americans will go to the polls for what has been called the most important election in modern US history. What do you know about it?