Sarina Wiegman is happy that the Orange women are finally playing against a top country again after the extremely simple European Championship qualifying series on Friday. The Netherlands will meet world champion United States in the Rat Verlegh Stadium in Breda, which can reveal points for improvement towards the Olympic Games in Tokyo next summer.
"It is a great poster, but above all a great challenge," said Wiegman on Thursday at a press moment of the Orange women in Zeist. "After this match we immediately know where we are and what it takes to be at the top of the Games."
The contrast with the European Championship qualification, which Orange closes on Tuesday with a home game against Kosovo, is enormous. Against countries such as Slovenia, Turkey and Estonia, Wiegman's team was never really challenged with only victories and a goal difference of 42 for and 3 against.
"In the European Championship qualifying, it was almost all about attacking before every game," says Wiegman. "Now we will also have to work hard defensively. The US has the best team in the world and we will also start tomorrow with the strongest possible line-up."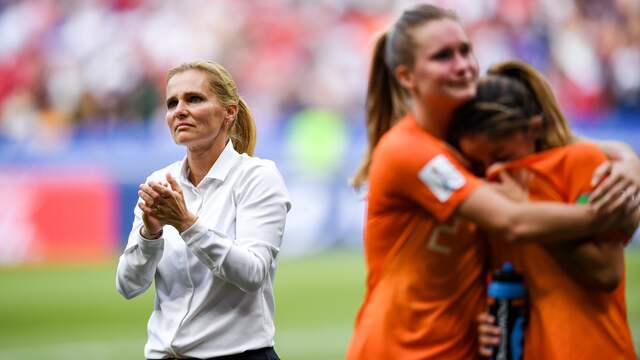 Sarina Wiegman after the lost World Cup final against the US. (Photo: Pro Shots)
No feelings of revenge at Wiegman
The exhibition game with the US is a repeat of the World Cup final in Lyon in July 2019. In front of 58,000 spectators, the Orange could not make a fist against the American star team that won 2-0 and thus took the second world title in a row almost a year and a half ago.
Wiegman says he does not have feelings of revenge now. "But we want to do much better than in the final. We have to show more initiative to the ball and stay on the ball longer. The position play has to be of a higher level, you are also forced to do so by the US. And then you can achieve a result, although it is difficult to say in advance what a good result is against such a strong country. "
Wiegman, who misses the injured Vivianne Miedema, also finds it difficult to estimate how strong the US is now compared to the World Cup final. Due to the corona crisis, the American team did not play international matches since mid-March.
"A number of players are active at club level in England and play a full house in competition there, but we do not really have any idea of ​​what the players in the US have done exactly. Anyway, we will find out soon enough on Friday how good this team is. It will be a great test. "
The Netherlands against the US starts on Friday evening at 6.45 pm in the Rat Verlegh Stadium. The game can be followed on NU.nl via a livestream and a live blog.
.