While Lewis Hamilton and Mercedes already have both world titles in 2020, behind the battle for the daily prizes is a hard fight going on for tens of millions: which team will be third in the constructors' championship and can take a big prize?
Sergio Pérez (30) has to make way at Racing Point after 2020, but he is currently worth his weight in gold for his team.
The Mexican can bring millions of euros to the stable with three races to go by securing Racing Point's third place in the constructors' championship. He already took a nice second place in Turkey. The fifth place on the grid for Sunday's Bahrain Grand Prix gives the Pérez – and thus his team – an excellent starting position again.
The fight for third place is still very exciting, with four teams still having a real chance.
World Cup stand constructors
3: Racing Point – 154 points

4: McLaren – 149 points

5: Renault – 136 points

6: Ferrari – 130 points
The cars in the midfield are not very different from each other
The tension is further increased because the sub top does not differ much from each other. Five teams passed within a second, while Pérez himself had to concede a second to Hamilton's fastest time. In highly competitive midfield, a mistake can make the difference between a fifth or twelfth place on the grid.
Fastest time midfield drivers in qualifying Bahrain
Sergio Peréz (Racing Point): 1.28.322

Daniel Ricciardo (Renault): 1.28.417

Esteban Ocon (Renault): 1.28.419

Pierre Gasly (AlphaTauri): 1,28,448

Lando Norris (McLaren): 1.28.542

Daniil Kvyat (AlphaTauri): 1.28.618

Lance Stroll (Racing Point): 1.28.679

Carlos Sainz (McLaren): 1.28.975

Charles Leclerc (Ferrari): 1.29.137

Sebastian Vettel (Ferrari): 1.29.142
Lack of speed or technical problem can cost millions
Ferrari did not have the speed in Bahrain on Saturday, a circuit where it normally appears strong. The lack of engine power clearly plays tricks on Sebastian Vettel and Charles Leclerc. Carlos Sainz's stuck rear wheels and Lance Stroll's bad time in Q2 don't really come out well in this fierce battle.
Because the teams are so close to each other and the cars are close to each other, a surprise can be decisive. With Pierre Gasly's unexpected second place in Brazil last year, the team then known as Toro Rosso, for example, jumped over Racing Point to sixth in the World Cup standings. Such moments can cost or yield millions.
Formula 1 itself never makes known who gets how much from the prize pool, but the difference between a third place and a fifth place in the final standings can easily save 25 million euros. There may be a budget cap of $ 145 million (122 million euros) in 2021, but that didn't make the millions that Formula 1 pays out to the teams every year.
The annual salary that Sebastian Vettel will receive next season at Racing Point (then Aston Martin), for example, already falls outside this limit and is said to amount to 15 million euros. His predecessor Perez can now make a significant contribution with his good results.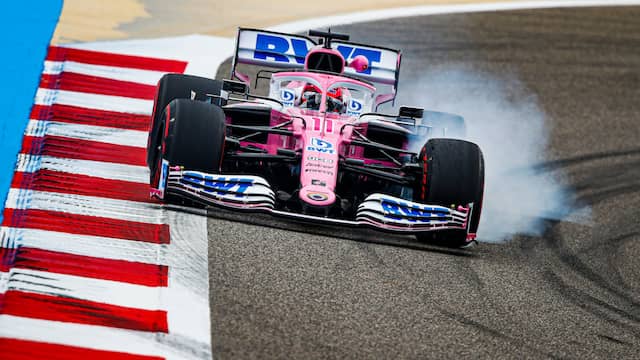 Sergio Pérez blocks a wheel on Bahrain's technical circuit (Photo: ANP)
Drivers do not perform equally with most teams in the midfield
Despite Gasly's victory in Italy, AlphaTauri has to settle for seventh place this year. This is not so much due to the Frenchman, but mainly due to his teammate Daniil Kvyat, who is the worst scoring driver in midfield with 26 points (Gasly has 63). The Russian also faces a considerable backlog in the mutual qualifying match with Gasly (13-2 for the Frenchman).
Looking at the further midfield, AlphaTauri's problem also affects other teams. Only at McLaren the drivers are equal.
Racing Point
Sergio Pérez: 100 points

Lance Stroll: 59 points

Qualifying match: 9-3 for Pérez
McLaren
Carlos Sainz: 75 points

Lando Norris: 74 points

Qualifying match: 8-7 for Norris
Renault
Daniel Ricciardo: 96 points

Esteban Ocon: 40 points

Qualifying match: 14-1 for Ricciardo
Ferrari
Charles Leclerc: 97 points

Sebastian Vettel: 33 points

Qualifying match: 11-4 for Leclerc
Pérez can be proud of achievements
Three of the four teams therefore rely heavily on the performance of one of their two drivers. From that one could conclude that McLaren may be outperforming the speed of their car and they have a good replacement to Daniel Ricciardo for the outgoing Sainz. The same Sainz can go to Ferrari against Leclerc, who manages to squeeze everything out of the very mediocre SF1000 this season.
But especially Pérez stands out: he was missing two races due to a corona infection, but nevertheless occupies a nice fourth place in the drivers' championship. The Mexican finished every GP in the points (only Hamilton did the same) and will probably give Racing Point third place with the constructors with his current top form.
That is something his team – which this year came up with a daring Mercedes copy – but especially Pérez himself can be proud of. It only makes his likely forced exit from the royal class more bitter. Unless Red Bull has had enough of Alexander Albon and throws the experienced Mexican a lifeline after all.
The Bahrain Grand Prix starts on Sunday at 3.10 p.m.
.