AZ remains fully in the race to reach the knockout phase of the Europa League. The Alkmaarders failed to win against Napoli on Thursday (1-1), but are assured of wintering in Europe next week with a win over HNK Rijeka.
AZ owes this good starting position partly to a mediocre performance by Real Sociedad, which surprisingly did not get further than 2-2 at home against Rijeka. Napoli leads with ten points in group F, Sociedad and AZ follow with eight points. Rijeka has already been eliminated.
AZ faced a deficit in their own AFAS Stadium after six minutes due to a goal from Dries Mertens, but early in the second half Bruno Martins equalized Indi and after that the team of trainer Arne Slot could have won.
Teun Koopmeiners in particular had an excellent opportunity to help AZ win. However, the captain saw his penalty turned by goalkeeper David Ospina.
AZ kicks off against Rijeka next Thursday at 6.55 p.m. in Croatia and joins the last 32 in the Europa League with a win. At the same time Napoli takes on Sociedad at home.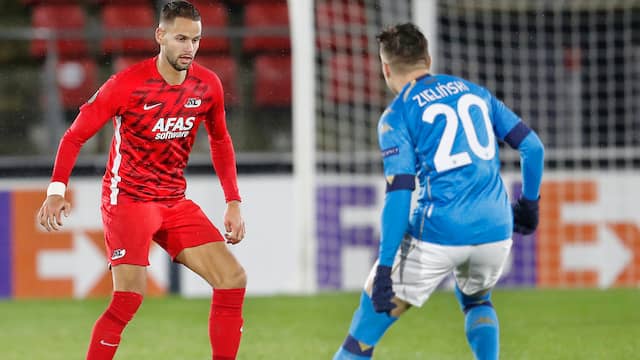 Pantelis Hatzidiakos duels with Piotr Zielinski. (Photo: Pro Shots)
Despite a fierce start, AZ is quickly behind
AZ won the away match against Napoli 0-1 at the start of the group stage and showed no respect for the Italian top club in Alkmaar either. Right from kick-off, Koopmeiners attacker Albert Gudmundsson put in position, who hit the outside of the post.
The visitors turned out to be more effective with the first attack. Mertens, Napoli's all-time club top scorer, poked the ball after a cross from Giovanni Di Lorenzo behind goalkeeper Marco Bizot.
While Napoli got opportunities to double the lead through Mertens in particular, AZ Zakaria Aboukhlal had the equalizer on his shoe. Despite a free shooting opportunity, the Moroccan did not succeed in crowning his surprising starting place with a goal.
Stand Group F:
1. Napoli 5-10 (6-3)

2. Real Sociedad 5-8 (4-3)

3. AZ 5-8 (6-3)

4. Rijeka 5-1 (4-11)
Koopmeiners misses a penalty after equalizing Martins Indi
The hunt for the equalizer was rewarded early in the second half. After Calvin Stengs missed another huge opportunity, defender Martins Indi scored from close range in the 54th minute with a handsome heel.
Even before Napoli had recovered from the shock, AZ had an enormous opportunity to take the lead in the 59th minute. After a foul against Aboukhlal, the ball hit the spot, but Koopmeiners – last season still a certainty from 11 meters – shot the ball against the post via Ospina's fingertips.
The miss had a paralyzing effect on AZ for a while, allowing Napoli to fight back into the game. To the relief of the Alkmaarders, Andrea Petagna left two enormous opportunities to give Napoli the victory unused.
View the results, the standings and the program in the Europa League
.