The fact that the Chinese are only Christian in a minority makes little difference to young people in Beijing: they 'take every opportunity to celebrate a party'. So many in the Chinese capital went out for dinner this Christmas. The turn of the year on December 31 is also celebrated in Beijing, "although that is not much compared to Chinese New Year," says correspondent Leen Vervaeke.
What's wrong in Beijing: covid-19 is no reason to stay indoors. The country where the coronavirus first spread to humans and spread last year, reports almost no more infections a year later. Although China remains vigilant: nine infections were diagnosed in Beijing last week, after six months without infections. This immediately led to additional measures. 'Beijingers now have to get tested before traveling and people who have been around those nine infected are all being tested. The authorities will be right back on track. '
Are there still generic measures for all Chinese?

'Two. You must wear a face mask and scan a QR code when visiting a store, catering industry or public building, so that your location can be tracked. If there is a new outbreak somewhere, the government can immediately find out who has been there. Furthermore, little is visible of the virus in the street scene. '
Is that crazy for you? Europe in lockdown during the holidays and you can move freely in China, where the virus broke out?

Of course. I think a lot of foreigners have mixed feelings here. We can celebrate now, but that is painful when your family and friends cannot. And now I would also rather be with my family in Belgium. '
Let's go back to the beginning of this year. You were in Wuhan during that very heavy lockdown in late January. How do you look back on that?

'With mixed feelings. I am very proud of the pieces I wrote there. We still knew very little about the virus, there was above all a lot of uncertainty. But many factors emerged from those documents that showed why things went so wrong in Wuhan. '
'But there is also a certain frustration attached to that pride. I wrote very disturbing things, but they didn't seem to arrive in the Netherlands. Once the virus arrived in Europe, everyone was very laconic. I sometimes get a bitter feeling about that. '
Can you blame yourself for that? For many people, foreign news is a bit of a distant show.

'That's right. But at the same time you hope that at certain levels, in the government, this will be dealt with differently. You asked me to choose my most important piece of this year for the interview. I will not go for the reports from Wuhan. I'm going for the delivery of Call with… on March 11, two days before the Dutch government started to introduce serious measures. The title of that piece: The Netherlands is lax when it comes to fighting the virus.
'Journalists are used to describing very factually what is going on. Not to introduce ourselves in the play, and not to express our opinion. This was the complete opposite. My telephone conversation with Stieven Ramdharie was a kind of j'accuse to the Dutch government.
'I really doubted whether I should do that. It actually goes against my journalistic principles. But I had the feeling that the Netherlands was heading for a complete disaster. The virus was clearly spreading, and Dutch politicians and media still thought it would be fine by stopping shaking hands. I knew what could happen from Wuhan and tried to warn me: hit that brake pedal, we're going to crash into a wall.
'In retrospect, I am very happy that I did. That piece is the most read episode of Call with… ever become. I don't know if my statements had a direct impact, but at least measures were taken shortly afterwards. I think I have made a small contribution. '
Did that change your idea of ​​the role of a journalist? That you have to pull that handbrake every now and then?

'I would do it again in exceptional circumstances, such as these. Even faster. '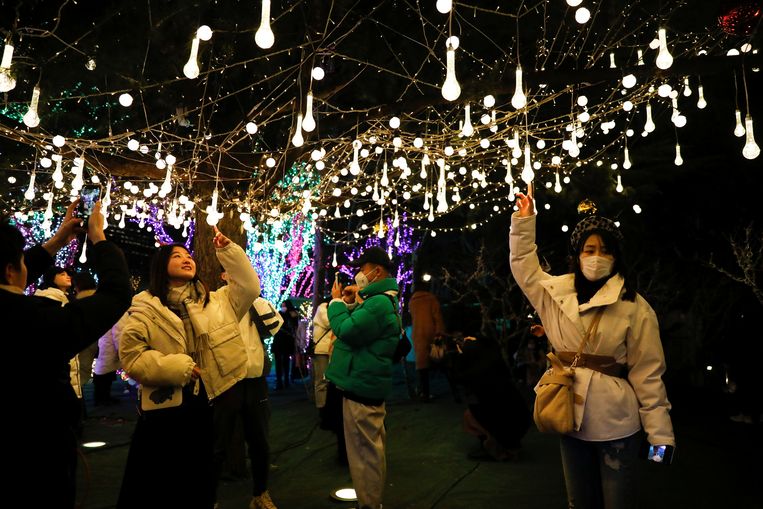 You have felt the strict measures yourself, former Italy correspondent Jarl van der Ploeg pointed out in retrospect with him on Friday. How long have you been in total quarantine?

'Three times two weeks, 42 days in total. I understand that many people in the Netherlands do not adhere to quarantine regulations. Here it is much stricter: you get in trouble as soon as you put one foot outside the door. But I actually found that clear. It's a matter of counting down. You know in advance: fourteen days in and then it is ready. You will also be rewarded for your effort, because after your quarantine you can resume your normal life. The sequence of half and whole lockdowns in Europe seems more difficult to me.
'The ordinary Chinese have also inspired me. I think 2020 has been a mental ordeal for everyone. At a certain point, we found out that the risk of death from the corona virus is not very high for many individuals. The measures mainly serve a collective purpose: to contain the pressure on hospitals and to protect the elderly. Covid-19 thus became besides a physical, especially a psychological challenge. How can I adapt to the measures without it affecting my state of mind?
'In China you saw that people in affected sectors, such as tourism, very quickly started looking for another job. During the lockdowns, systems were set up to deliver food to people who could not go outside themselves. That mentality was contagious. It helped to think: I have to stay strong during those quarantines. Do not focus on the things that are not allowed, but on the things that are possible.
'This Chinese way of thinking probably has to do with the turbulent recent past. The Cultural Revolution, the transition from communism to capitalism, the previous experiences with Sars: people here are aware that everything can change overnight. You have to be able to adapt quickly, otherwise you will be left behind. That realization is much less common in Europe. '
Does that also have to do with the national character? There is the idea in Europe that the strict Chinese measures cannot work here.

'I find it dangerous to think in terms of national character. The Chinese are not more docile than Europeans in many ways. When Wuhan's lockdown was declared, many people tried to flee the city. What is completely different in China is the political system. The government here has no problem enforcing such a lockdown with roadblocks, heavy checks and severe penalties. Of course people are docile.
'The discussion about the advantages and disadvantages of the Asian approach is, in my opinion, not entirely fair in the Netherlands. In comments you constantly read that such measures are not possible in an open democracy. Draconian measures are part of an authoritarian state like China, it sounds compassionate. But Taiwan, South Korea, Australia and New Zealand take the same approach. Are those no more democracies? Yes, I hear, but those are islands or peninsulas. As if you can only apply travel restrictions on an island.
'It is clear to me that Europe can learn a lot from the approach in China and the surrounding countries. There have been hundreds of times fewer deaths, less damage to the economy, and in the end, most people probably would have spent less time in lockdown. But that message is very difficult to convey. Sometimes it seems as if we live in a different reality. '
How come you think that is?

'It will be a combination of factors. Reporting on Asian successes is dominated by reports from China. There you run into the political system, and the mistrust about the figures. That removes the willingness to look to other countries in Asia. It is also far away, and people have all kinds of misconceptions about the Asian national nature. The Netherlands prefers to compare itself with Germany or France.
'But to be honest, I think it's also a form of Western arrogance. You hear that term regularly in China, and I never took it so seriously before. But this year I started to understand what the Chinese mean by that. Doing it worse than the other and saying it's because you're better. To say that it is because you hold freedom higher. But meanwhile they are in lockdown at Christmas, while in many Asian countries people can walk around freely.
Finally: what did you think was the best piece in the newspaper in 2020?

'I have read with admiration the columns and essays by Kustaw Bessems about the Dutch corona approach. I think it's really good. The piece 'In the corona crisis, aren't we listening to a group of experts that is too small?' was very recognizable to me. The statements of the Chinese, Taiwanese and Hong Kong institutions for public health sometimes deviated very strongly from what the Dutch RIVM said. Science is supposed to be neutral, but scientists can put very different emphases with the same facts. Kustaw analyzed that problem in a very intelligent way and also mentioned solutions. For me he is one of the most interesting voices in the Dutch corona debate. '
'I would like to mention a second piece, because I was extremely impressed by the production of healthcare reporter Ellen de Visser and photographer Jiri Büller:' Five healthcare providers about that one corona patient '. Everyone should read that piece. Then you see what suffering is hidden behind all those numbers. In Wuhan it was impossible for me to access hospitals. But Ellen and Jiri have portrayed the grueling circumstances of care providers and patients in a very penetrating way. That piece really touched me. '
End-of-year series
The deadly silence in a Chinese metropolis, an American president who does not accept an election result and a pandemic corona virus that crushes everyday life, but about which almost nothing is known. For reporters from de Volkskrant 2020 was extremely remarkable for everyone in their own way. Every day around the holidays one of our journalists looks back.
December 24: Robert van Gijssel about a historic disaster year in the music world, a silent revolution in pop music and the best album and the best artist of 2020.
December 25: Jarl van der Ploeg about the corona outbreak in Italy, the urge to compare countries and a lesson he learned as a journalist in 2020.
December 26: Frank Hendrickx about the government's corona approach, quarrels at political parties in times of crisis and what the benefits affair says about The Hague culture.
December 27: Emma Curvers on a revival of linear television, a year full of boring TV formats and why the On 1broadcast with US Ambassador Pete Hoekstra about the anti-racism demonstrations was so shocking.