The furniture in the cluttered kitchen of the living group in the center of Utrecht has been pushed aside. In the center is only an improvised barber chair. Yara Piekema, an actress in daily life, is getting ready to cut. The profession is new to her, but since the corona crisis she has now given 5 of her 13 housemates a new haircut. Her tactic: "I don't take too much off, so I can always update it later."
Dead spots, mats on the neck, curtains for the eyes; the corona cut is now a well-known phenomenon. 'Be proud of it,' says Gonny Eussen of hairdressing organization ANKO. A sloppy haircut is a sign of solidarity with the closed hairdressers, she says. "Look at Rutte, he puts a good amount of gel in his hair to be able to show off."
Because the hairdresser is closed, we are all in this together, you might think. Yet that is not entirely true. Some professional football players do not go onto the field without a short haircut and a new tan. FvD politician Thierry Baudet also came to the Lower House with a short haircut last week. When President Arib said something about this, Baudet joked that he wanted to share the telephone number of his hairdresser. 'That is something to cry,' says Eussen.
Also with presenters of talk shows and the NOS News the hair is always slicked, the hairdresser foremost notices. 'And that while there is no exception to the cutting ban.' The Association of Dutch Content Producers (NCP) says that the talk show hosts are not cut, but only styled. Make-up is part of the production process, according to a spokesperson. "Maybe sometimes a lock is cut there." Also a spokesperson for it NOS News says the hair is only styled. 'We also take various hygiene measures.' Eva Jinek's hair is growing steadily, says an information officer from her talk show.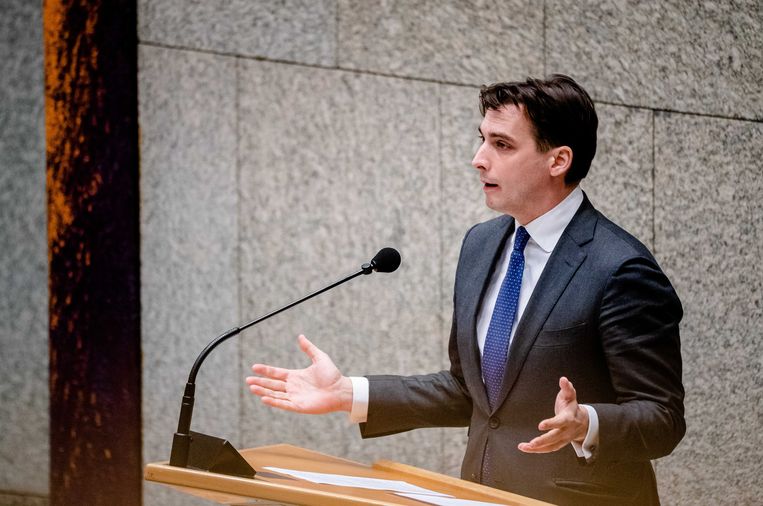 Repair work

What is still allowed is cutting housemates. 'For example, Minister Hugo de Jonge gets haircut by his wife,' she says. But care must also be taken here. 'Because my colleagues were very busy with repairs after the previous lockdown.'
In Utrecht, Piekema's roommate Adriaan Walpot takes up the chair. He has put a towel on his shoulders. He thinks it's exciting. "We agreed in advance that it is my risk if things go wrong." Walpot is a high school teacher, and he knows that his students always hold up an honest mirror to him. But, he puts it into perspective, 'in the worst case we will get the clippers over it afterwards.'
Indeed they are clippers, but also scissors and hair dye that are popular at webshops for hairdressing products. In any case, the online stores have not started to sell less since the lockdown. Haarshop.nl sells more products to private individuals. 'We really do not recommend doing color treatments yourself', says one employee. "But with clippers through the hair, you have to know that yourself."
Hairdressers with a webshop can also see that sales continue there, says Eussen of the trade association. That's a good thing, because hairdressers have a very hard time. "Because they were open in the fourth quarter, they made too little loss of turnover to qualify for the support measures."
New support is on the way, but Eussen suspects that it may take months before it is credited to the hairdressers. 'Some can no longer pay the salaries. I've even heard that hairdressers have sold their house to save the case. ' She fears that more hairdressers will switch to illegal home trimming.
Kinki: live course

The large hairdressing chain Kinki tries to keep employees busy. The company keeps in touch with the three hundred employees, among other things through a weekly live course. 'Our hairdressers are at home and cannot express their love for the profession and creativity at the moment,' says a spokesperson. In addition, Kinki is taking its own version of MTV Cribs on; a salon manager shows his or her establishment inside and out.
Hairdresser Tessa Grootscholten is not bored during the lockdowns. The number of views of the Youtube tutorials on her channel Dazzling Beauty skyrocketed, reaching 250 thousand viewers. Grootscholten recommends making small adjustments in particular, let them know on the phone: 'Don't try to cut a completely new model. But according to her, you can always touch up contours, cut dots and paint outgrowth.
Actress Yara Piekema, who is now surrounded by tufts of hair, had no patience for YouTube videos. She got the best cut from her mother, who once learned the basics from a hairdresser: "Start at the sides and work your way up." Piekema trims the sides of her housemate Walpot with clippers and cuts the strands at the top. Still, she doesn't offer the full hairdressing experience; for head massages while washing, the housemates still have to go to the professional. 'I'll be there for the hairdresser's conversation about little cows and calves. Adriaan, how are you? '