Although PSV is performing better than last season, there is a lot of criticism of the substitution policy of trainer Roger Schmidt, who also clashed with top talent Mohamed Ihattaren this week. Schmidt previously stood out in Austria and Germany for his stubborn character, but he also received a lot of praise there. A story about a strong personality, the Easter bunny and three duels suspension.
"Schmidt has a very good reputation in Austria," said Johannes Höfer, reporter Sky Austria, against NU.nl. "The public here respected him because of his open personality. Those incidents have changed little about that."
Because there were indeed incidents in Austria around Schmidt in his period at Red Bull Salzburg. After a 4-4 draw against Admira Wacker, he called fellow trainer Dietmar Kühbauer "an Easter bunny" because of the Austrian's accent. There was a risk of a riot involving players, until the referee called for help from the police. Schmidt and Kühbauer got rid of it with fines of 800 and 1,600 euros respectively.
In addition, after a match against Austria Wien, Schmidt was almost pissed off with trainer Adi Hütter. "He took my hand, but I'm not a little boy anymore. My hand is mine, I won't let myself be held like that," said an exasperated Schmidt of the incident.
All small beers, perhaps, but the moments do show Schmidt's obstinate character. "He has a strong will and his own philosophy. If others disagreed, it could lead to tensions," explains Höfer.
With that strong personality, Schmidt got a lot done in Austria in a short time. He took the helm at Red Bull Salzburg after Co Adriaanse and then Ricardo Moniz had led the club. Schmidt broke completely with the Dutch school and opted for the German 'gegenpressing' tactic.
"Schmidt, together with general manager Ralf Rangnick, has shaped the entire club", says Höfer. "He has changed the way of training, but also the youth academy. In a short period of time, the club has taken a big step forward. That made a big impression here."
Roger Schmidt is sent to the stands by referee Felix Zwayer, but refuses to leave.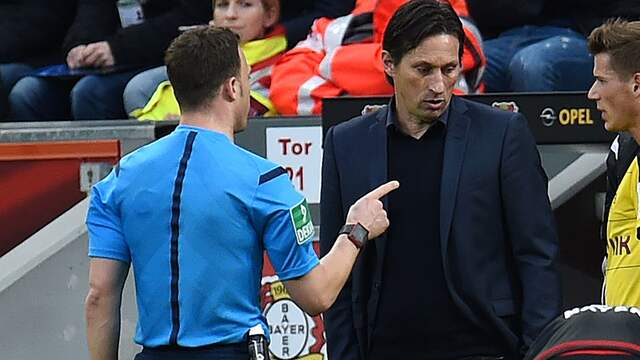 Schmidt refused to leave the Leverkusen dug-out
PSV's results have also improved since Schmidt's appointment. Last year the club was still ingloriously fourth when the season had to be ended, now the team from Eindhoven is the only one that can still stay somewhat close to the superior and more powerful Ajax.
Yet it is rarely about the advance that PSV has made under Schmidt and his changes or collisions with the arbitration are discussed much more often. The German coach made an ardent plea to abolish the VAR and was suspended for one game after he questioned the impartiality of referee Bas Nijhuis.
Schmidt has also clashed considerably with the arbitration in Germany. When Bayer Leverkusen's coach was sent to the stands by referee Felix Zwayer in a match against Borussia Dortmund, he refused to leave. Zwayer was forced to leave the field with all players.
"If Schmidt felt treated unfairly, he could become stubborn," said Stephan von Nocks, who followed Schmidt's Leverkusen as a reporter for Kicker.
Only when Schmidt had taken his seat in the stands eight minutes later, the match could resume. The German federation punished the coach with five duels suspension (two of which were conditional) and a fine of 20,000 euros.
As Schmidt clashes with Ihattaren at PSV, there was also dissatisfaction with the players of Leverkusen. "In the end, Bayer's selection consisted of two groups," says Von Nocks. One group wanted to continue with Schmidt because he pushed them to a high level and supported them in every situation.
"Schmidt let Leverkusen play a kind of 'second ball football'", explains Von Nocks. "They played the long ball and then tried to win the ball close to the opponent's goal. That was a lot of running and never even getting control of the game by playing the ball around with twenty passes."
"After some criticism from some player Schmidt tried a different tactic in the preparation of his last season. But after some time, against the wishes of many players, he decided to return to second ball football."
Roger Schmidt's switches, a much discussed topic.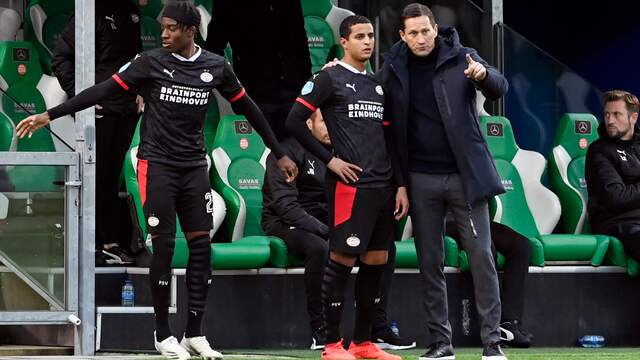 Schmidt takes no notice of criticism of switches
But the stubborn nature of the coach is perhaps best reflected in his substitution policy this season. Such as in PSV's away match against sc Heerenveen, when the coach took his best players to the side with a 0-1 lead and his team narrowly drew 2-2. Or in the home games against Sparta (1-0) and Vitesse (3-1), where he wanted to give almost his entire team a rest but still had to bring in many star players to prevent loss of points.
Last Thursday it was about the changes that Schmidt did not do. When he was eliminated in the Europa League against Olympiacos, he only changed for the first time this time in the 89th minute, just after his team conceded the crucial away goal.
"It's always the same," Schmidt sighed at the press conference after a question about his late substitutions. "One time I don't have to change that much and the other time there is a late goal against and I should have changed earlier. That is the fate of the trainer. I thought we were in the game well against Olympiacos and therefore left the team standing. . "
Schmidt takes no notice of all the criticism and stubbornly clings to his vision. In the season overloaded by the corona crisis, he wants to have his best players as fit as possible in the most important matches. That is why the German uses heart rate monitors in training to see which players are able to play twice a week and who he can give better rest.
For example, the trainer looked again on Saturday which players he can best line up against Ajax, because his beloved 'gegenpressing' tactic simply requires top-fit ​​players. Striking detail: despite Schmidt's many substitutions, most PSV players already made more minutes this season (see table below) than the Ajax players, who had to play three games less.
Players with the most playing minutes this season at PSV and Ajax
PSV: Yvon Mvogo 2.880, Jordan Teze 2.801, Philipp Max 2.733, Olivier Boscagli 2.704, Donyell Malen 2.687.

Ajax: Dusan Tadic 2.591, Daley Blind 2.560, Ryan Gravenberch 2.444, André Onana 2.340, Davy Klaassen 2.257
.