They accompanied the American century: Tupperware cups and containers that could be sealed airtight and watertight. Practical utensils in combination with another product of the American century: the refrigerator. But for the magazine House Beautiful Tupperware stood for something higher in 1947: 'Art for 39 cents, seamless and soft like jade, reflecting light like alabaster or pearls.'
Tupperware is also inextricably linked to a new (direct) marketing concept: living room meetings where Tupperware consultants demonstrated the ease of use of the products. At one point, somewhere in the world, such a Tupperware party was held every 2.6 seconds – even in the Netherlands, consultants were still on the road until last year. Due to disappointing market developments, the party is over here from 1 March. Tupperware will stop direct sales in the Netherlands, enthusiasts will have to move to Belgium or Germany from now on.
For Earl Silas Tupper (1907-1983) it was important that the articles named after him did not look like plastic, and – above all – that the foodstuffs stored in them did not smell like plastic. No, his Tupperware – with which he entered the consumer market in 1945 – was made of Poly-T, 'material of the future'. Its main raw material was polyethylene, a residue from an oil refinery near him, Farnumsville Massachusetts.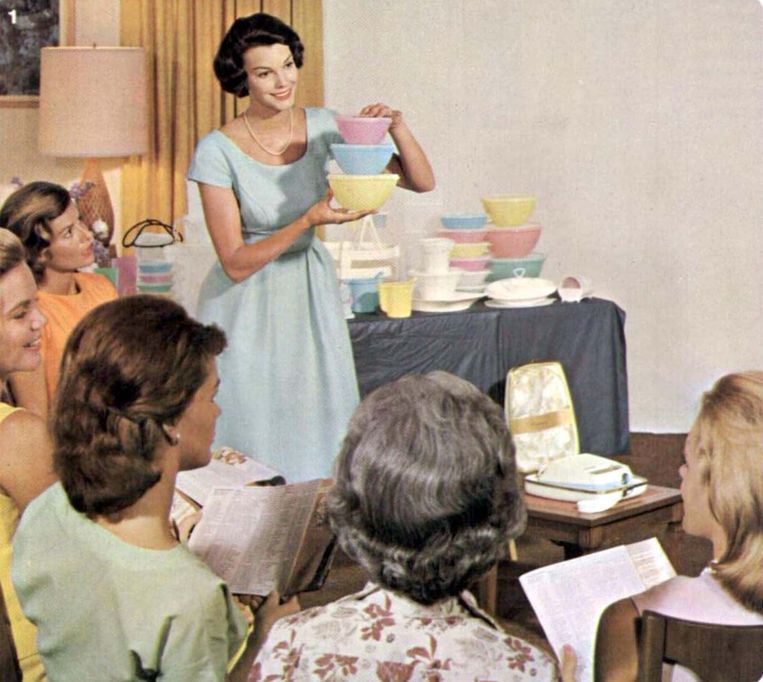 Cecum

With Tupperware, he didn't make his first shot at fortune and fame. Previously, he had been an arborist and had tried to meet a variety of needs with inventions: an animal-friendly animal trap, colored knitting needles, non-slip suspender hooks, celluloid fake nails, the 'Komoflage comb' (a combination of a nail file and a comb, packed like a fountain pen ), and an instrument for removing the cecum through the anus. During World War II, he supplied the US Army with plastic parts for gas masks.
But with his cups and bowls from Poly-T he tapped into an immense market: that of the middle class housewife. He himself had every confidence in it beforehand, as evidenced by the name of the first series of Tupperware products: Millionaire Line – that's how much Tupper hoped to make (at least) with it.
At first instance it did not look like that. Consumers were not yet ready to use Poly-T in the kitchen, which they thought was ordinary plastic. It was also objectionable that the revolutionary Tupperware lid required some practice from the users. The first Tupperware consultant, Brownie Humphrey Wise, turned this need into a virtue: she organized living room meetings to convince buyers (exclusively women) of the ease of use of Tupperware. The entire sales strategy and organizational structure of the company is based on that model. Consultants – usually freelancers – could progress to become leader consultant, unit manager, prominent manager, team leader and eventually distributor.
From a feminine perspective, views on Brownie Wise's merits are quite divergent: some praise her for allowing women to earn an income of their own. Others revile her for allegedly banishing women to the kitchen. Be that as it may: in the Netherlands her role is permanently played out.