Selling a social rental home for 1 million euros? It is possible in Amsterdam, despite a call from the municipality not to dispose of corporation property anymore. Seller Ymere says that the sales proceeds are indispensable for more social new construction.
In November, Jan Leegwater and Boudewijn Rückert stood in front of the house in the Heinzestraat in Amsterdam, to demonstrate with other members of their campaign group 'Not for sale' against yet another sale of a social rental home. And this time there is also a price tag of 1 million euros.
The activists see with sorrow that housing associations are continuing to dispose of their highly sought-after homes, despite an appeal from the Amsterdam city council to stop doing so. So, once a month, Leegwater and Rückert stand with banners in front of a house with another dreaded for sale sign hanging on it.
In a few weeks, the ownership of the house in the popular Oud-Zuid will be transferred to the notary. A private buyer is prepared to pay exactly the asking price.
With these types of sales, 'ordinary people' are driven out of Amsterdam-South, says Jan Leegwater, himself a tenant in the neighborhood. 'A teacher or a tram driver no longer enters the neighborhood. The last affordable homes go on sale. South will be a colony for millionaires, yuppies, double earners and expats. And you will never turn back that clock. '
A house belonging to an Amsterdam corporation yields an average of 340,000 euros on the free market. But now it is a double apartment in the Concertgebouw area, between the stately Apollolaan and the old Vondelpark. Moreover, a house in the style of the beloved Amsterdam School, with 163 square meters of living space and eight rooms over two floors.
Desirability

The home of the Ymere housing association has been rented to a large family since 1989, and ultimately only to its father, with EUR 707.38 as the last bare monthly rent. Renovation is urgently needed, says Ymere spokesperson Coen Springelkamp. Including sustainability, Ymere would allocate another 150,000 euros for it before renting it out again.
The sale of social rental homes recently came into the spotlight again due to an appeal from the municipality of Amsterdam to the corporations to stop selling their homes. If the housing foundations did not do that, the municipality would buy them up itself. At least, alderman Laurens Ivens (housing) will soon discuss with the council whether an investigation will be carried out into the desirability of a role for the municipality as landlord.
Ivens hears with horror that Ymere is selling another house in South. 'I understand that it is sold at market value. But as far as I am concerned, the corporations no longer sell social rental homes at all. In this case, the sale is extra painful because there is very little social rent left in this neighborhood. '
Ymere wants to sell as few homes as possible, says spokesman Springelkamp. 'At the same time, we want to build 500 homes per year in the coming years. For 1 million euros we can rebuild five new homes on, for example, the Eenhoorn site in Amsterdam East. We also spend a lot of money on making homes more sustainable, on keeping rents low and the landlord levy. '
This tax for large owners of regulated rented homes (which was introduced in 2013 and costs corporations about 1.7 billion euros per year) is one of the main reasons that corporations sell homes, along with the financing of new construction. In the Netherlands, housing associations sold a total of 218 thousand homes between 2009 and 2019, according to a survey by the Land Registry at the end of last year.
Peak

In 2015, sales peaked at more than 30,000 transactions, in 2019 this had dropped to more than 11,000. Almost half of the homes sold had a purchase price of up to 150,000 euros. In the largest four cities, including Amsterdam, almost one in five homes sold for more than 250,000 euros.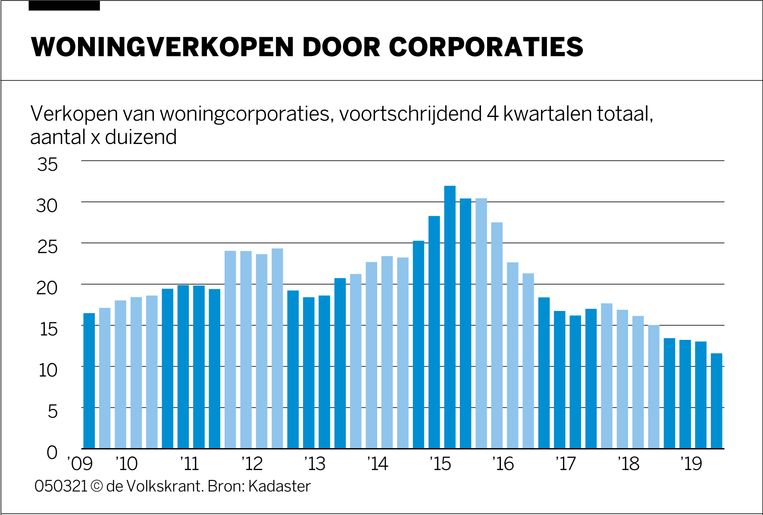 The high house prices help to limit the number of sales, Ymere spokesperson Springelkamp emphasizes. And in that respect Ymere does not have to complain. Two years ago, 1.4 million euros was already paid for a comparable house in South. A year later, the highest yield was 941 thousand euros, followed by another four homes for around 750 thousand euros. The last five houses were not in South, but in the West and North districts.
The number of housing association homes sold in Amsterdam also declined, to less than a thousand per year. This is partly due to agreements between the municipality, tenants' associations and the corporations, says Alderman Ivens. In 2014, 570 social homes were sold in South, five years later that number was limited to 115. 'That's a small reassurance, but right now it is important not to further reduce housing corporation property in South. Otherwise you will definitely lose the ideal of the mixed city there. '
In his own street in South, about 5 minutes by bike from Heinzestraat, campaigner Leegwater does not see that ideal again. 'The inclusive city is disappearing. The social new construction is mainly found on the outskirts of the city. This also sweeps people with a low income together. But you also have to give them the chance of a home in a neighborhood that they would normally never be able to afford.
With regard to the Heinzestraat, there is another painful point, they think in the action group. The 1928 ground floor apartment was once intended for the porter of the girls' school at the back, the upstairs apartment that was sold to the headmaster of the school. Rückert: 'And right now teachers can no longer find a home in the city.'