Good breathing, like yoga and mindfulness, seems to be gaining popularity. Retreats are being organized, the number of breathing coaches is increasing and 'Iceman' Wim Hof ​​also talks about the importance of good breathing. But what is that necessary for? Breathing goes without saying, right?
"The way we breathe determines how we feel," says breath coach Fenneke Dam. "For example, if you have a lot of stress, your breathing will shoot up. You often take shallow and rapid breath over the tops of your lungs. This shallow breathing can then cause feelings of stress and tension in the body to increase."
If we take a lot of high and shallow breaths, we will burn out at some point, thinks Dam. Not surprising, at a time when the number of stress-related complaints and burnouts only seems to be increasing.
"With a lot of stress your breathing shoots up."
Fenneke Dam, breathing coach
That is why breathing coach Rob Koning also wants to emphasize the importance of breathing correctly. "There are people who set the bar just a little too high, sit a lot in their head or look at a screen all day because of their work. If that is the case, it is not surprising that your head needs to rest at night. But nowadays, tranquility is understood to mean: viewing social media and watching Netflix on the couch. In short: even more screens. "
According to Koning, a head that does not settle can contribute to incorrect breathing. According to him, there is a good breathing frequency at four to ten breaths per minute. "In practice, however, the average is a lot higher for many people."
Many people think they can relax by checking social media or watching Netflix on a screen.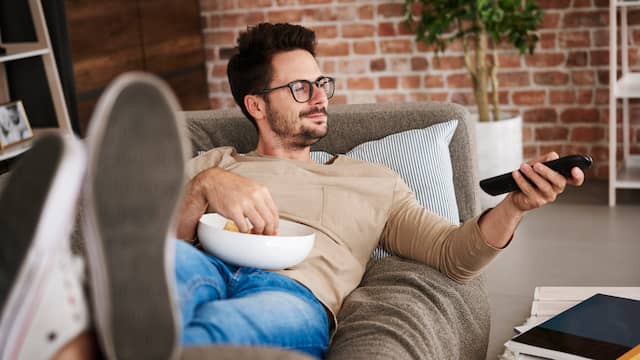 There is always an underlying cause
Dam sees that too. According to her, it only becomes unhealthy if your breath is too high in the chest even during calm breathing and in a relaxed state. "If that is the case, then as a breath coach I will see how I can get your breathing calm again, so that you can release that pent-up tension in the body."
"Not breathing properly always has an underlying cause."
Fenneke Dam, breathing coach
According to van Dam, there is always an underlying cause for not breathing properly. "Often it is about stress or panic attacks. But it can also be the case that, for example, you are startled a lot, then you can unconsciously hold your breath for a moment." The body often responds by gasping for air afterwards, "adds Koning." Your body is very smart in that respect and when it comes to breathing, it does everything to stay in balance. "
Relaxation without a screen
Your breathing will always continue unconsciously, so you don't have to think about that. It is clear, however, that breathing in the right way can improve the quality of life. "It can reduce symptoms of fatigue, headaches and irritability. If you breathe too quickly and shallowly for a long time, it cannot help but affect your constitution," says Dam. She wants to emphasize that it is an awareness process. However, the first step has already been taken, according to her, by sleeping better and relaxing more.
"Find relaxation without a screen."
Rob Koning, breathing coach
Koning agrees: look for relaxation without a screen, he says. "Go for a walk, do yoga or read a book. That way you can process your day, which is important for a relaxed mind."
Do you find yourself breathing too fast, shallow, and too high in your chest, and looking for a way to relax? Then breathing exercises are definitely a good idea. Dam tips: "Breathe in through your nose for four counts, as much as possible from your stomach, then exhale for six seconds". According to her, it is not a structural solution. "It is always better to tackle the core of the problem. If you can do that and if it ensures more rest, it will generally also lead to better breathing."
.