What is Netanyahu accused of?

There are three different charges, all of which revolve around the abuse of his power as prime minister. Most importantly, Case 4,000: Netanyahu allegedly presented legislation to Shaul Elovitz, major shareholder of telecom giant Bezeq, which would bring the company hundreds of millions of dollars. In return, Elovitz, who also owns the news site Walla, positive about the prime minister.
Positive reporting would also have been the stakes in case 2,000: the publisher of the newspaper Yedioth Ahranoth would be willing to do so if the government made life miserable for a competing newspaper. In case 1,000, Netanyahu and his wife allegedly received expensive gifts such as booze and exclusive cigars from befriended millionaires.
What does Netanyahu himself say about these allegations?

On Monday, Netanyahu made a statement live on television, reiterating that it was a 'witch hunt' and an attempt to carry out 'a coup through the courts'. The prime minister accuses the prosecutors of acting illegally: among other things, they would have deleted recordings, and ignore witnesses who do not fit their assumptions. 'They try to bring down a strong, right-wing prime minister. This is what an attempt at a legal coup looks like. '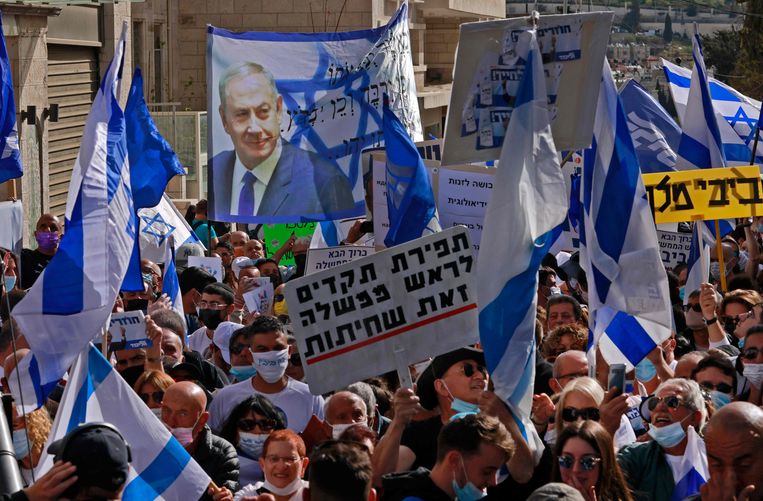 How did the first day in court go?

This week, the substantive treatment of the corruption process began, but Netanyahu went out again immediately after the opening plea. He was therefore not there when the first witness was heard, who spoke on Monday and Tuesday. Ilan Yeshua, former CEO of news site Walla, told how he was instructed to publish positive stories about Netanyahu and his wife, and negative articles about his political opponents. According to him, the assignment came from the then owner of Walla, Shaul Elovitz, but also from people around the prime minister himself.
'They would say,' You are not from (the liberal newspaper, ed.) Haaretz? You're not a left-wing website, are you? Are you sometimes a site of (the terrorist Palestinian organization, ed.Hamas? "
He described the requests as 'a nightmare'. Even though, according to Yeshua, there was constant discussion among journalists about it, '90 percent 'was eventually granted.
How long will the process take?

With more than 330 witnesses on the list, it could take years to reach a verdict. For the next few weeks, the case will be held every Monday, Tuesday and Wednesday, which is a painful and time-consuming distraction for a man who must simultaneously form a government.
Because that is allowed: a suspect who is going to lead a government?

There is no law requiring an Israeli politician to resign if prosecuted. Netanyahu's predecessor Ehud Olmert did before when he was prosecuted for corruption because he wanted to be able to fully defend himself. Olmert eventually ended up in jail for sixteen months.
When Netanyahu was ordered to form on Tuesday, President Reuven Rivlin added that he was reluctant to do so. First of all because he does not believe that a government can be formed with this election result, but also because he has 'moral and ethical' objections to a prime minister who is being prosecuted.
How will this end?

Watching coffee grounds is a skill in its own right, but if found guilty, Netanyahu could face up to 10 years in prison for bribery alone. His best shot at getting out of prison is to stay in power and get some form of immunity for himself.
The issue has paralyzed the country for two years: elections have been held four times during that time, each revolving around whether Netanyahu can stay on the plush. The country is divided to the bone: half thinks so, the other half wants to get rid of it. Time and again this leads to a result in which it is almost impossible to form a government.