PSV completed the transfer of Joël Drommel on Friday after difficult negotiations. The keeper will come over from FC Twente after this season and will sign a contract with the Eindhoven team until mid-2026.
At the beginning of March it already seemed that Drommel would leave for PSV after this season, but the clubs could not agree on the transfer fee. FC Twente reportedly hoped to get around 6 million euros from the transfer and that did not match the price tag that PSV had in mind.
According to various media, the people of Eindhoven now pay approximately 3.5 million euros to FC Twente. Technical director Jan Streuer of the tukkers already told Monday The Telegraph that Drommel restarted the negotiations by renouncing the contractually agreed percentage of the transfer fee.
"From the first meeting I have set my sights on a switch to PSV", says Drommel on the PSV site. "The club and trainer Roger Schmidt have a lot of confidence in my qualities. PSV competes every year for the prizes and plays European football. I was looking for that challenge."
Earlier this year FC Twente anticipated the approaching departure of Drommel by picking up Lars Unnerstall. The German is transfer-free from PSV, where he is currently reserve keeper behind first choice Yvon Mvogo.
Joël Drommel signs with PSV for five years.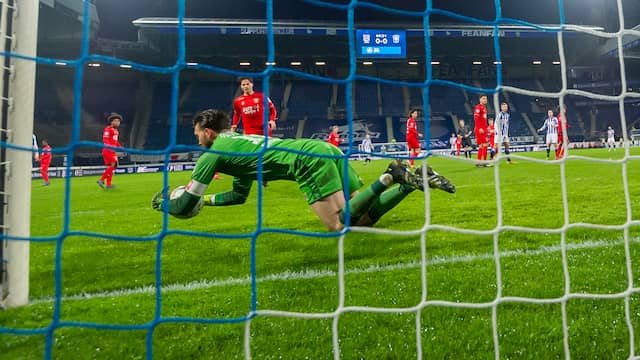 Mvogo's future at PSV is still uncertain
It is not yet clear what the arrival of Drommel means for the future of Mvogo in Eindhoven. The goalkeeper is in principle hired from RB Leipzig for two years, but the Bundesliga club has an option to bring him back after this season.
"That is why we wanted to be sure that we had a reliable keeper at the start of the season who had the qualities to play for PSV", says technical manager John de Jong. "We succeeded with attracting Joël."
Drommel, who still had a contract in Enschede until mid-2022, owes the transfer to PSV to his strong season at FC Twente. The 24-year-old North Hollander has been the first keeper at the club from Enschede for years, with whom he relegated to the Kitchen Champion Division in the 2017/2018 season and achieved promotion a year later.
His development has already been rewarded by national coach Frank de Boer, who brought Drommel into the selection of the Dutch national team for the first time in November. In March, he was one of the dropouts from the preliminary selection corps for the first World Cup qualifying matches. The keeper is still waiting for his international debut.
At PSV, Drommel may play in the Champions League next season. In the final phase of the season, the people from Eindhoven compete with AZ for second place in the Eredivisie and thus a ticket for the preliminary round of the million ball.
View the program and the position in the Eredivisie
.