Kim Polling was completely surprised when she was told on Tuesday that she will not be allowed to go to the Olympic Games in Tokyo next summer. The selection committee of the Dutch judo association prefers Sanne van Dijke.
The Netherlands may delegate one judoka per weight class and Polling (30) and Van Dijke (25) were very close to each other in the category up to 70 kilograms. In the run-up to the European Championship earlier this month, Polling said she saw no reason why she would be passed over, but the selection committee still chose her competitor.
"I can't really believe it yet," Polling added on Tuesday evening Along the Line and Environs on NPO Radio 1. "I really did not expect it, because I think that all statistics point in my direction. But it is a choice of the judo association and I accept that. I do not agree, but it is what it is. "
The Olympic qualification process for the judokas started in May 2018, but the judo association designated three last measurement moments for this year: the Masters, the Grand Slam in Tel Aviv and the European Championship. Polling took bronze at the heavily occupied Masters by beating, among others, world champion Marie-Eve Gahié and Van Dijke and therefore thought that the Olympic ticket was in.
"I didn't really see the last two measuring moments as peak moments and that apparently was not convenient", said the four-time European champion. "But I don't regret it at all, because I wouldn't have wanted to do my preparation any differently. It's just very sour now."
Sanne van Dijke was crowned European champion earlier this month and is allowed to go to Tokyo.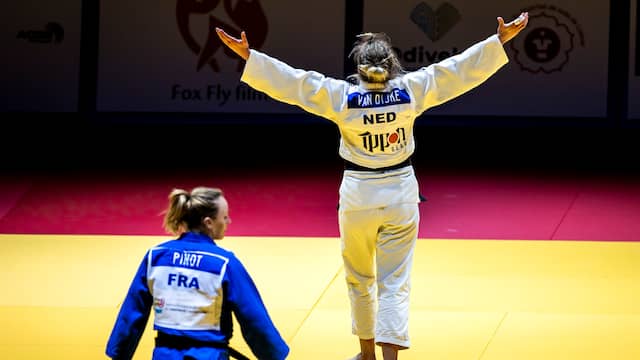 Polling already sent Van Dijke an app to wish her success
Polling, who did participate in the Games in 2016 and was immediately eliminated, sent her competitor Van Dijke an app on Tuesday evening to wish her success. "Congratulations Sanne, good luck with your further preparation. And I really hope that you can show why you were selected there in Tokyo, with such a muscle behind it. I really hope that she has proven to be the right choice."
Chairman Tjaart Kloosterboer of the selection committee stated that the choice between Polling and Van Dijke, respectively the number three and four in the world, was "impossible". Ultimately, the last phase of the qualifying process was mainly looked at and that is in favor of Van Dijke, who became European champion and won bronze at the Grand Slam in Tel Aviv.
"I have always believed in it," said a delighted Van Dijke in conversation with the NOS. "I was never satisfied and I only let go after the European Championship. This was the longest day of my life, but now I feel relief, recognition and joy in one."
Until recently, there was also a competition in two other weight classes, although it was not as exciting there as with Polling and Van Dijke. In the category from 100 kilograms the selection committee chose Henk Grol over Roy Meyer and in the class up to 78 kilograms Guusje Steenhuis won the Olympic ticket at the expense of Marhinde Verkerk.
.