The travel advice will be announced on Wednesday morning, the new advice will take effect on Thursday. The infection rates are favorable enough to relax travel advice. In addition, the vaccination campaign in these countries has gained momentum: in all three, more than 40 percent have received a first shot.
Vacationers are not required to show a negative PCR test when returning from these destinations. The urgent advice to go into quarantine also expires. Dutch nationals who travel to these countries must still meet a number of conditions. For example, travelers must be vaccinated with a recognized vaccine, i.e. Pfizer/BioNTech, Moderna, Janssen or AstraZeneca, or be able to demonstrate that they have recently recovered from the virus.
For other travelers, Italy requires a PCR test or an antigen test (rapid test) that is less than 48 hours old. Germany would also like to see a negative test: a PCR test of up to 72 hours old and an antigen test of up to 48 hours old. In addition, the Germans require travelers to register via a special website. Austria applies the same rules, including online registration.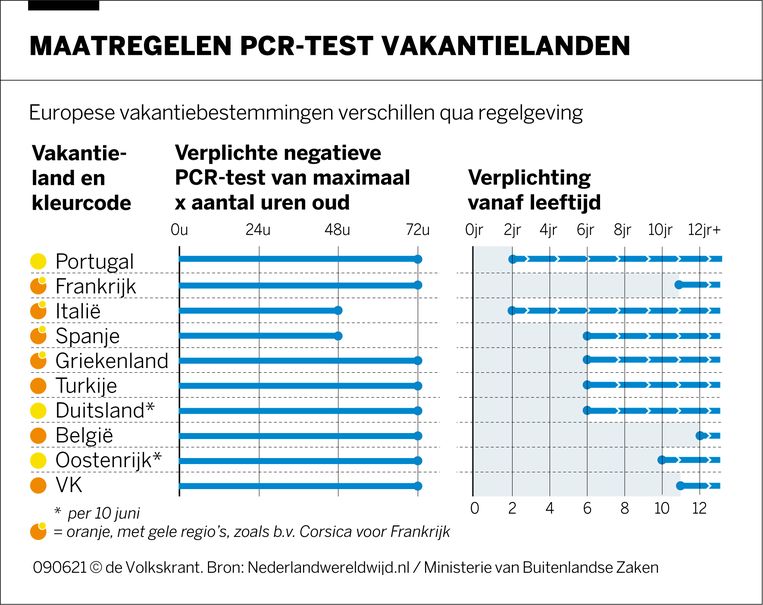 Corona pass

The ultimate aim is to make traveling within the European Union easier with a 'coronapas', a digital European certificate stating whether someone has been vaccinated, recently cured or tested negative. The European Commission warned on Tuesday that Member States should not delay too long with this. If they wait until 1 July, as the Netherlands intends, there will be problems, according to European Commissioner Didier Reynders.
Seven countries already issue the certificate, including Germany, Denmark and the Czech Republic. If other countries wait until July 1, Reynders fears a 'big bang' in which too large a group of people apply for a certificate at the same time. If this happens gradually now, problems will already be solved and the process will be easier in the summer, according to the European Commissioner.
Most countries in the world remain on orange. The Caribbean islands of Saba and St. Eustatius are the only ones on green. Code yellow now applies to Aruba, Bonaire, Curaçao, Sint Maarten, Finland, Malta, Portugal, Greek islands, Ireland and Iceland.