This is apparent from a tour of websites for organizing a European Championship pool, where the Dutch predict the course of the tournament with friends or colleagues. At Scorito, with about half a million participants the largest, only 8 percent predict that the Netherlands will win the tournament. That is considerably less than at the 2014 World Cup: then an almost twice as high percentage expected that the Netherlands would emerge victorious.
Other organizers are not much better. At football poules.nl (141 thousand participants), the Netherlands was the top favorite in every previous football tournament. But this year only 11.5% think that the Netherlands will become European champion. At ekpooltjes.nl, where more than a hundred thousand participants participate this year, that is even a meager 7 percent. It doesn't get much better with smaller websites.
Pessimism

It fits in with a broader sentiment of pessimism about the Dutch national team. Since Frank de Boer succeeded the successful Ronald Koeman as national coach in September last year, the game and the results have been disappointing. De Boer also made a number of rude mistakes when informing players whether or not they had been selected for the European Championship selection, which resulted in a lot of chagrin. De Boer does not see the Netherlands as a top favorite either.
So little orange fever, a few days before the first match that is played in our own country. There is no European Championship song to storm the charts or a run on wuppies. When the supermarket company Jumbo uses the inevitable Snollebollekes in a commercial to still stir up the orange feeling, it receives an angry letter from the KNVB. The association (and sponsor Albert Heijn) has a monopoly on that orange feeling, according to the KNVB.
Vive la France

Who will see the Dutch win the European Championship? France. About half of the Dutch have the French as the winner in their pool. The Dutch are not the only ones who think so: at the internationally operating Scorito, the Germans, English, Spaniards and the French themselves also think that France will win the European Championship. Only Belgians think they are better themselves.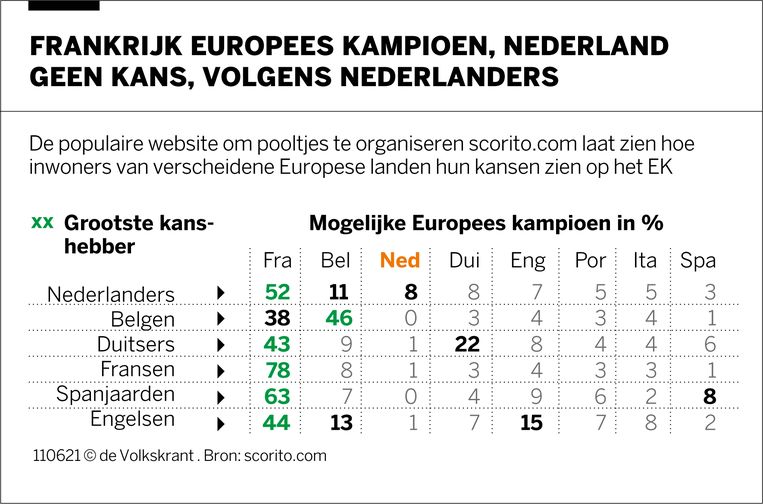 Our fellow Europeans are also not optimistic about the chances of the Netherlands: only 1 percent of the Germans thinks that the Netherlands will win, and 0 percent of the Belgians. The bookmakers, who make in-depth, statistics-driven analyzes of the countries' odds, are moderately positive about the Netherlands. No, the Netherlands is not a top favourite, but it is one of the best seven countries and has a better chance than outsiders such as Turkey, Croatia or Denmark.
De Boer does not have to worry about Sunday, according to the pools. About 80 percent predict that the Netherlands will win all group matches. After that, according to many, it is over: more than 45 percent expect the Orange to fly out in the eighth final.