That is what outgoing Prime Minister Mark Rutte writes to the House of Representatives. The allowance to which the 17-year-old Amalia will soon be entitled is politically sensitive: the PvdA, PVV and D66, among others, think the amount, in total about 1.6 million euros, is too high. When this led to a debate in the House of Representatives in 2016, Rutte defended the benefit: he called bringing it up for discussion 'populism'.
On December 7, 2021, Amalia will turn 18, from that moment she will receive the benefit − on which she does not have to pay tax. "I find that uncomfortable as long as I can offer little in return and other students have it so much more difficult, especially in this uncertain corona time," she writes in a handwritten letter to Rutte. Never before has a member of the Royal House waived the allowance.
The allowance to which Amalia is constitutionally entitled consists of two parts: the income component, almost 300 thousand euros, and the expense allowance, more than 1.3 million euros. For example, she has to pay for private personnel and security. The princess informed Rutte by letter that she would refund both benefits. Only in case of high costs in her position as Princess of Orange will she keep part of the expense allowance.
Amalia was told on Thursday that she graduated cum laude from the gymnasium. She writes that they want to take a gap year after the summer holidays and that she wants to start studying after that. Last King's Day, the crown princess said she does not yet know which further education she will do.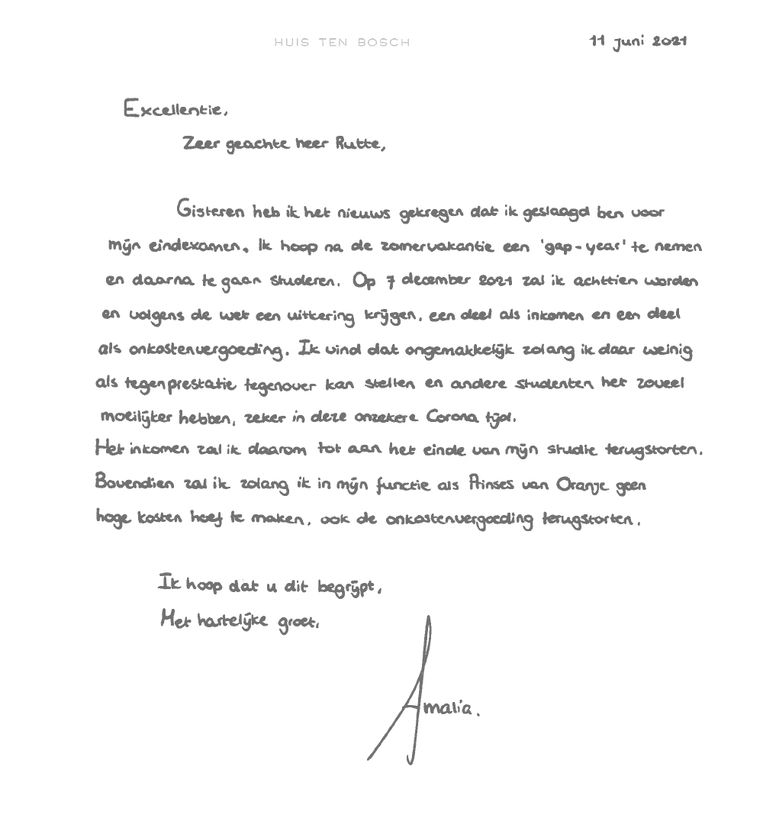 The financing of the rest of the Royal House is also regularly discussed. In recent years, political parties, mostly on the progressive side, have repeatedly urged to cut the arrangements. So far this has not happened.
King Willem-Alexander will receive a total of more than 6 million euros this year, Queen Máxima will receive more than 1 million euros and Princess Beatrix will receive more than 1.6 million euros. These amounts, all tax-free, consist for the most part of the expense allowance.
Furthermore, the government pays, among other things, the expenses for the management of the palaces, aircraft and personnel who work for the Royal House, but not directly for its members. An amount of more than 30 million euros has been estimated for this year.