Most of the deaths occurred in Zhengzhou, a metropolis of 12 million inhabitants where part of the metro network was flooded. The situation is also grim in other parts of Henan – where it will continue to rain until at least Thursday afternoon.
In Zhengzhou on Tuesday, with 20 centimeters of rain, more precipitation fell in one hour than in three days in the flooded German Ahrtal. The muddy waters of the Yellow River flooded subway lines, leaving passengers trapped underground. There are videos on social media of people crammed up to their waists or shoulders in the water in flooded subway cars, or trying to escape the rapidly flowing water via a higher edge in a subway tunnel. Five hundred people were rescued from the metro, twelve people did not survive the flood.
"The water was up to my chest. I was really scared. The most frightening thing was that there was less and less air in the subway car to breathe," said a survivor on China's Twitter service Sina Weibo.
The metro was extra busy due to the heavy weather, because the traffic above ground was paralyzed by the water and the trolleybus could no longer drive.
3/3: More extraordinary scenes from the floods in central China – commuters on the Zhengzhou subway. There are other videos circulating on WeChat that show people in even worse predicaments – appears to be very destructive flooding. pic.twitter.com/hCJYq3ANyU

— Bill Birtles (@billbirtles) July 20, 2021
From Saturday, Zhengzhou received the amount of rain that normally falls in a whole year in three days. Other parts of China are also affected by the bad weather, but the water levels of the tributaries of the Yellow River and Hai He are exceeding all alarm levels.
The downpours are caused by high pressure areas in the South Pacific and Typhoon In-Fa, which swept through two coastal provinces and brought additional rain to Henan. According to Chinese meteorologists, the exceptional weather conditions only occur 'once in a thousand years'.
Zhengzhou is located on the Yellow River, nicknamed 'China's Sorrow' because of the annual floods. In recent decades, the plains that absorb the excess water from the Yellow River have been rapidly filled with new residential areas, with the construction of proper sewerage often lagging behind. Also agricultural activities and a large amount of dams prevent the rapid discharge of high water.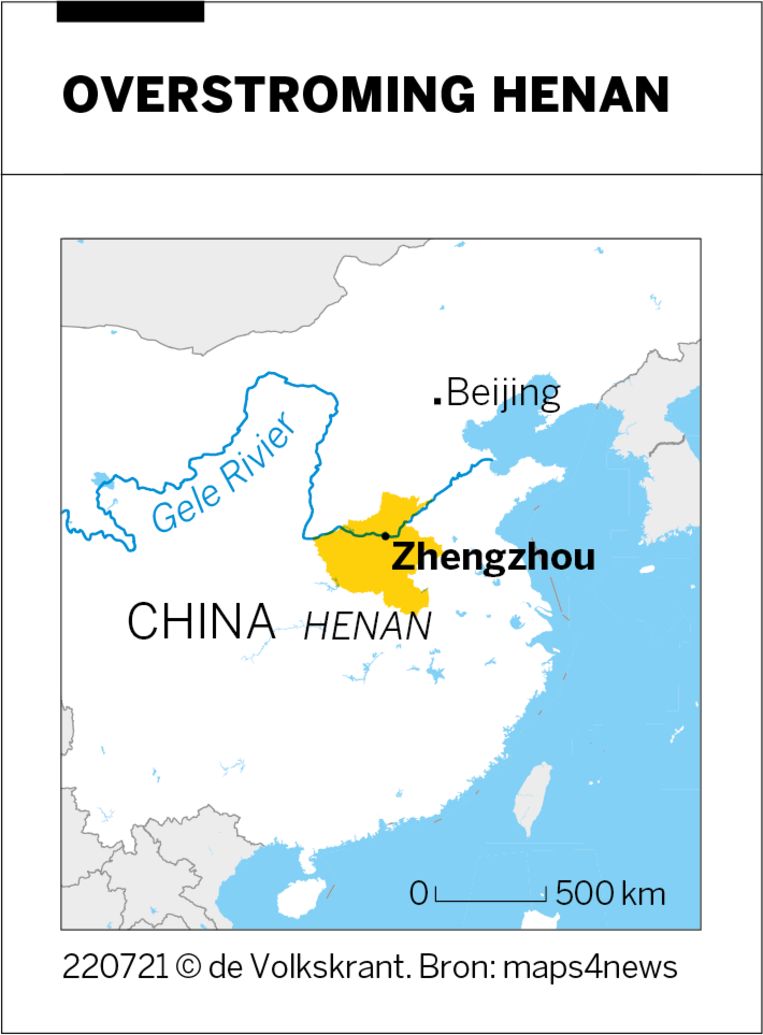 Overcrowded reservoirs

1.2 million people have been affected by the flooding. All over Henan, towns and villages have been flooded and the situation remains critical as some thirty dams of overcrowded reservoirs are about to burst. Chinese President Xi Jinping described the situation on Chinese state television as "very serious" on Wednesday (local time).
The first aid alone is worth 15 million dollars, according to Chinese state television, according to Chinese state television. The economic damage is still unknown, but it will be immense. With 94 million inhabitants and an area the size of Austria, Henan is one of the most densely populated provinces, which has large industrial areas in addition to agriculture.
In the city of Luoyang, a large dam, already weakened by breaches, was blown up on Tuesday by soldiers helping to fight the flooding. This is to prevent the population from being surprised by a new dam breach. An aluminum factory exploded and flooded in Dengfeng.
Hundreds of thousands of people have now been rescued. They have been evacuated from hotels, schools, residential areas and hospitals, which are experiencing power shortages and flooding. A teaching hospital in Zhengzhou had to relocate 600 seriously ill patients.
The city buses in Zhengzhou are now running again, but two thousand stranded travelers are still waiting at a large train station for train traffic to start again. Seven hundred passengers were said to have been trapped for 40 hours in a train that got stuck in the water. Hundreds of flights have been cancelled.