It is still light when the first birds of paradise pass by in Amsterdam's Reguliersdwarsstraat. In front of Club Nyx, boys with black lipstick, girls in Lolita outfit and divas in platinum blonde wigs show their QR code. Normally they don't go into town until midnight, but now their glittery eyelids and shiny nipple piercings gleam in the evening sun. Some visitors don't change until they're inside, to avoid nasty comments on the street.
"We offer them a safe place," says co-organizer Junior – a former ballet dancer with a tattoo of Joan of Arc on his torso. 'She too was a crossdresser.' Recently, a transgender artist who worked for Club Nyx committed suicide out of desperation after two years of corona, he says. 'Nightlife fulfills an important function for a marginalized part of society. It's a pity that politicians don't pay attention to that.'
On the first evening without one and a half meter restrictions, there is a festive atmosphere in the capital. In front of Café Zwart on the Spui, visitors are again sitting elbow to elbow at French bistro tables, some businesses have put their speakers outside and young people drink wine and pass on cigarettes on the curbs. If you want to enter somewhere, you have to show your coronacheck app, but no one asks. 'No, everyone is allowed to pee', says a waiter of music café De Heeren van Aemstel. "Yeah, actually I should check you out," the Golden Chopsticks waiter says with a sheepish smile.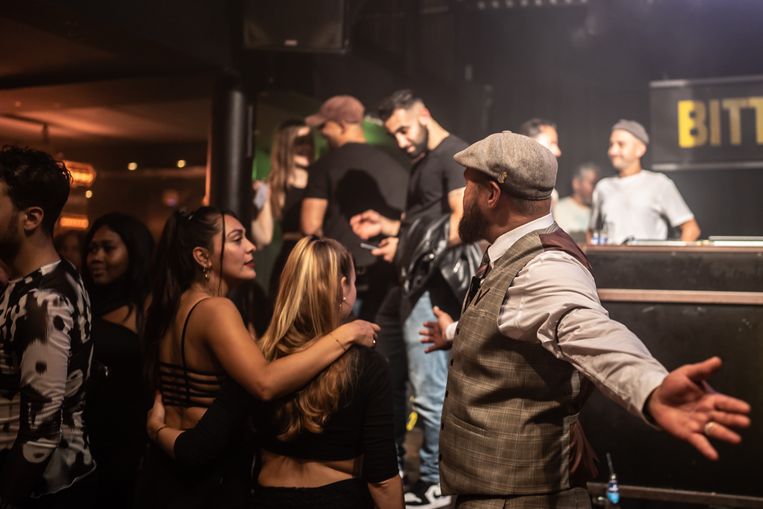 It is the clubs that explicitly do ask for QR codes. They have doormen and are already used to a lot of control at the door. Tuschinski cinema also asks for the code. The ticket cutter: 'A British lady with a passport and vaccine certificate could also just enter.' Film chain Pathé still keeps a seat free between groups. 'That used to be two free seats, we think that many visitors are not quite ready to sit right next to a stranger.' Kriterion student cinema announces that it will ignore the corona policy from now on.
"Finally we can go out!" scream four girls in the passport photo booth of Club Bitterzoet. They just turned 18. 'We were fucking lonely during corona. So now it's time for freedom, love and connection!' In the dance hall, four hundred guests move in sync to the female-friendly hip-hop of Ashanti, Drake or Beyoncé. A girl twists like a snake around a boy with a beard and earrings, a couple in the corner starts grinding, dozens of arms rise and slippery shoulders touch. For example, one and a half meters turns into zero meters – to the relief of all visitors. 'I'll do another self-test on Monday,' says a girl from Berlin.
According to music sociologist Julian Schaap (Erasmus University), nightlife is a kind of magic circle. 'It is a safe place for a relatively small group; for the masses it is an escape," he says by telephone about the reopening of the clubs. Hardware store employee Tony Manero forgets his problems on the dance floor, just like Bol.com employee Daan who dances away his nasty corona year in Bitterzoet tonight. According to Schaap, dancing together and listening to music induces a high. 'Oxytocin – the cuddle hormone – plays a role in this. You synchronize with others, you are more open to contacts, even if they are not your kind of people.' That is why, according to the researcher, nightlife provides new perspectives, especially for young people.
Owner Bas Louwers of Bitterzoet is happy that his club is open again, although he no longer understands the rules. Shaking his head: 'Koninklijke Horeca Nederland just announced that a random check, 1 in 10, is enough. And oh yes, that capacity limitation of 75 percent apparently does not appear to be necessary either!' In addition, the government system of QR codes faltered on Saturday. Fortunately, the need to go out is so great, says Louwers, that the club can still sell tickets at the last minute. Louwers: 'I wouldn't be surprised if we have to close again in three weeks. I hold my breath.'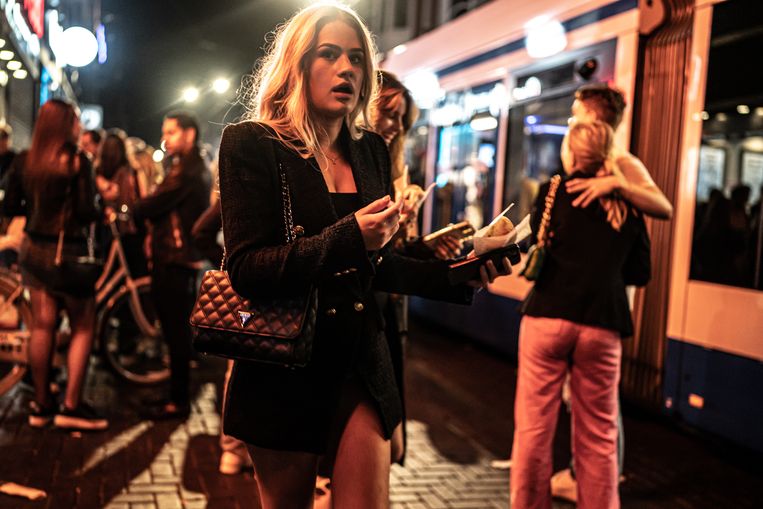 It stings the 43-year-old club boss that he is accused of discrimination. His facade was covered with posters about Apartheid and drawings of the Amsterdam mayor Femke Halsema as a neoliberal police officer. 'I have no choice at all. Or maybe they want to pay my rent?' Owner Rob de Jong of Club Nyx, where more than six hundred queer guests celebrate the reopening on Saturday, also reacts fiercely. 'I don't discriminate. Anyone with a test is welcome. If you think that's discrimination, then you have no idea what that word means.'
Ten minutes before midnight, the fluorescent tubes above the bar in Bitterzoet go up a notch. One more time Rihanna, one more time goddamn sing along with Tyga. 'Hold Up, Hold Up' shouts the MC. "I feel real love, we'll go on for another five minutes!" Then a bearded doorman in the middle of the room makes a gesture and all the lights go on. Dancers with sweaty faces look around in bewilderment and look for their own group. The magic circle is broken.