Captain Teun Koopmeiners cannot assume that AZ gave up a certain seeming victory on Saturday evening for the third league game in a row. The Alkmaarders drew 2-2 against VVV-Venlo by two late goals.
"This makes you despondent", Koopmeiners sighed after the match FOX Sports. "We have to blame ourselves, that's the only thing we can do. We didn't defend well as a team and put each other in situations where a referee could make certain decisions."
In the first half, there seemed to be nothing wrong for a long time for the supreme AZ, which led 2-0 after 25 minutes by hits by Jesper Karlsson and Calvin Stengs. For the third league match this season, however, the team of trainer Arne Slot had to stand with ten men. Jonas Svensson made a clumsy sliding at the end of the first half and immediately got red.
"Whether it's a red card or not, from that moment on you have to keep going. In the second half you don't suddenly get a man back", Koopmeiners said. "I don't want to use that as an excuse, because we just have to look at ourselves. You just have to hold on to a 2-0 lead, with or without a red card."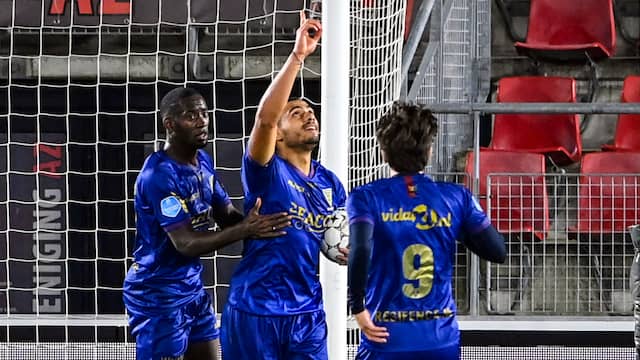 VVV-Venlo came in the final phase through two late hits at the same level against AZ. (Photo: ANP)
'Svensson made a very stupid offense'
Despite the situation in the meantime, AZ remained on a 2-0 lead for a long time, but VVV struck in a bizarre final phase. Evert Linthorst made the connection goal in the 86th minute and two minutes later Georgios Giakoumakis scored the equalizer from 11 meters, meaning AZ again lost points.
In recent matches against Sparta Rotterdam (4-4 after 0-4 lead) and Fortuna Sittard (3-3 after 1-3 lead), things also went wrong for the Alkmaarders. Trainer Arne Slot, like Koopmeiners, wanted to talk to FOX Sports do not point to the referee.
"Every time we give a referee the reason to give red", emphasized the coach, who in any case did not understand anything about Svensson's gross charge. "It was just a very stupid offense and unnecessary, given the standings and the position on the field."
"We will discuss it (the many red cards, ed.), But apparently it is not enough to ban it. But it is also too easy to just talk about those red cards. should have a bigger lead. "
View the program, the results and the position in the Eredivisie
.