If you want to know where the 19-year-old Swedish rapper Einár was shot, you don't have to look long. Just follow the teenagers walking down the street with flowers. The twelve and thirteen year olds, sometimes even younger, gather at a neighborhood church, where a memorial has been set up, with candles, notes and flowers.
The modern church, with a glass facade, is located right next to a neat courtyard garden. There, behind a white ribbon, among the reddish-brown autumn leaves, is the spot where Einár, one of Sweden's most famous rappers, was hit by several bullets on Thursday evening. According to witness statements, the two assailants took pictures of the corpse before running away. The police assume a settlement in the criminal circuit.
The murder of Einár shocks many Swedes, but his young fans the most. "Everyone knew him," says 13-year-old Alma Bergström. "He rapped about things I recognized. Sometimes I was in class and noticed that his music was still in my head.'
Elderly Swedes are especially shocked because the murder of the 19-year-old musician is a new low in the growing gang violence in the country. Due to the countless liquidations, settlements and other deadly violence of drug gangs in Malmö, Stockholm and Gothenburg, Sweden now ranks at the top of Europe's top murder rate. While murder rates are falling all over Europe, they are rising in Sweden. And good.
middle class

The victims of the gang violence have so far often been unknown young suburban criminals, but the trail continues to move towards the front door of the middle class. Last July, two children were injured in a hail of bullets in a suburb of Stockholm. And the spot where Einár was murdered is located among the middle-class, double-glazed apartments in Hammarby Sjostad, a beautiful and centrally located 1990s neighborhood in the capital.
"No one is safe anymore," says Karin Söderlind (53), a church employee who, with a cup of coffee in hand, takes a look at the sea of ​​flowers. "We've never seen anything like this. Many people now realize that something really needs to be done.'
The young rapper, the troubled son of a famous Swedish actress, broke through from scratch in 2019 with Forsta class (First Class), an album full of catchy melodies and dizzyingly fast raps. He now has more than 1.3 million listeners per month on Spotify. 'He was the first to make this kind of music in Sweden. He made rap really big," says Alma Bergström, who discovered Einár's music when she was 12. "Even my father said he liked it. Although he always thinks he knows everything.'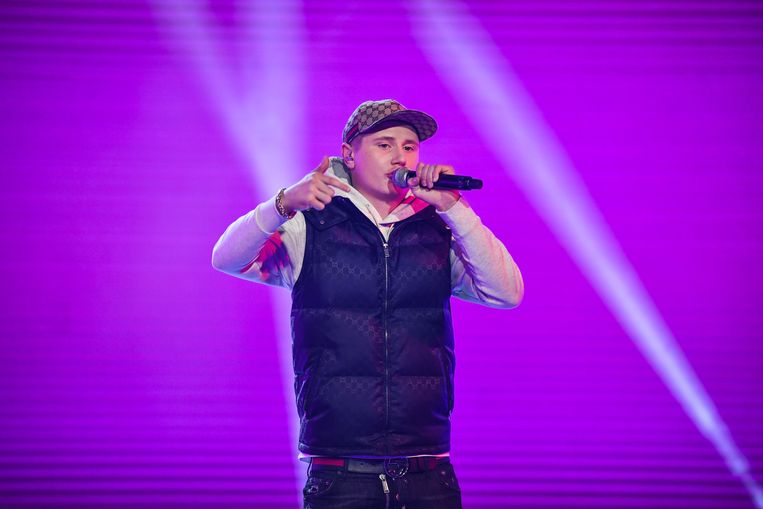 Although the young rapper looked more like a member of a children's choir with his blond hair and apple cheeks, he was by no means a blank slate. His lyrics and video clips are packed with weapons, drugs and violence. He had convictions for assault, theft and drug possession, and was arrested earlier this month for being involved in a stabbing at a nightclub. Police suspect his death was revenge for this incident.
middle finger

That's not all. A year and a half ago, Einár, then 17, was briefly kidnapped by a gang. He was mistreated and lost his expensive necklace and watch. Einár refused to testify afterwards, but did appear on Instagram with a raised middle finger and a new Rolex. Thanks to hacked chat messages from cryptophone provider EncroChat, the perpetrators, including two other rappers, could still be convicted.
American conditions in Sweden, says 15-year-old Elias Lindqvist, who came from the north of the city with two friends. "I immediately thought of Tupac or Biggie," he says, referring to the two world-famous American rappers who were shot dead in 1996 and 1997 respectively. In fact, he had already 'outgrown' Einár's music, according to the 15-year-old, but he still felt that he now had to pay him the last tribute. 'Einar was big. He was part of our lives.'
The teenagers here also know that their idol was not a saint, but they didn't see him as a criminal. "Of course he wasn't completely spotless, but he was a good person. He loved his mother, he wrote a beautiful song about it, titled Sorry Mama'Bergstrom said. That may have been an ode to Tupac, who made a similar song for his mother.
Increasing gang violence is a hot topic in Swedish politics. Critics say the Swedish government should take tougher action against the often underage gang members. "We have had enough of this senseless violence, it is time to fight gang violence seriously," the political leader of the Center Party said on Friday.
Others see the increasing violence involving many young people from a migrant background as evidence that immigration is the problem. According to church employee Söderlind, that is too easy. 'The big problem is that the gap between rich and poor has become so wide here. Underprivileged young people also want expensive clothes and cars, and they believe that the drug trade is the only way to get them.'
Einár had just released a new song last week, together with Dutch DJ and producer Trobi. 'Brother you have to watch out here in Stockholm, pang pang pang', Einár raps in that song. He was right.
This is the first contribution from our new correspondent in Scandinavia.