Where does this eruption of fireworks nuisance come from?

The fuse in the powder keg really seems to be the fireworks ban. For weeks, calls have been circulating on social media to set off fireworks as a protest against the fireworks ban. Fireworks fans believe that the government is abusing the corona crisis to steal their toy. 'No pyro no party', it sounds – a slogan that is also popular among football hooligans.
An action day was even announced: Saturday, November 21 at 8 p.m. everyone had to shoot to protest against the fireworks ban. That call has been heeded in many places. A new announcement for a protest action is now circulating on social media: Friday evening December 4.
In some places, the fireworks nuisance also continued for evenings regardless of the protest action. Arnhem, where the thunder had already started, and Roosendaal emerged as hotspots that also attracted youth from elsewhere. Residents no longer dared to leave their homes. Some sighed: "It looks like a war zone here." The police made dozens of arrests.
There was always a lot of fireworks nuisance in the months before the turn of the year – is it worse now?

According to the national police, the number of reports of fireworks nuisance has more than doubled: from nine thousand last year to 18 thousand now. 'Of course, more nuisance is also reported because many people work at home because of corona', says Ruud Verkuijlen, coordinator of the turn of the year at the national police. 'But most of it comes from young people who are bored and are looking for an outlet. They supposedly set off nice fireworks and provoke the police. They throw mortar and firework bombs at each other and at rescuers – very dangerous. It is a game of cat and mouse: they are deliberately provoking riots with the police. We will take tough action against that. '
How does the local government deal with the rioters?

With repression and firm words. In Roosendaal, the nuisance is mainly caused by a few dozen 'rudders' and a large group of 'hangers-on'. Mayor Han van Midden regularly addressed the rioters through the media in recent days: 'Don't be so stupid to join in with those backward practices. It is perilous, also for yourself, to fire these types of projectiles. It's incredibly anti-social. '
On Wednesday he even published 'a message from the mayor to the wheel turners'. What's going on now has nothing to do with youthful wantonness or boredom, he writes. Residents feel unsafe, pets are terrified. 'Does that make you proud? I don't believe that ', says Van Midden (VVD). "It's not cool or cool when mortar bombs and cobras fly through the air."
On Tuesday, the municipality first announced a ban on gathering, and the police was allowed to carry out a preventive search. When those measures did not help, an area ban for four neighborhoods was added on Wednesday: everyone 'who has no business there' will be banned. A large police force checks the access roads.
Wednesday night it was still restless and eight arrests were made. Thursday it remained quiet. 'The citizens of Roosendaal can sleep again', the local police reported on Twitter.
In Arnhem, mayor Ahmed Marcouch threatened to take an even more severe measure: he wants to evict people from their homes if heavy illegal fireworks are found in the house. After all, that already happens when a cannabis plantation or other drugs are found in a house. "They screen with a protest against the fireworks ban, but this is pure destruction," says the PvdA mayor. Earlier he also appealed to the parents of rioting teenagers: "Parents, where are you?"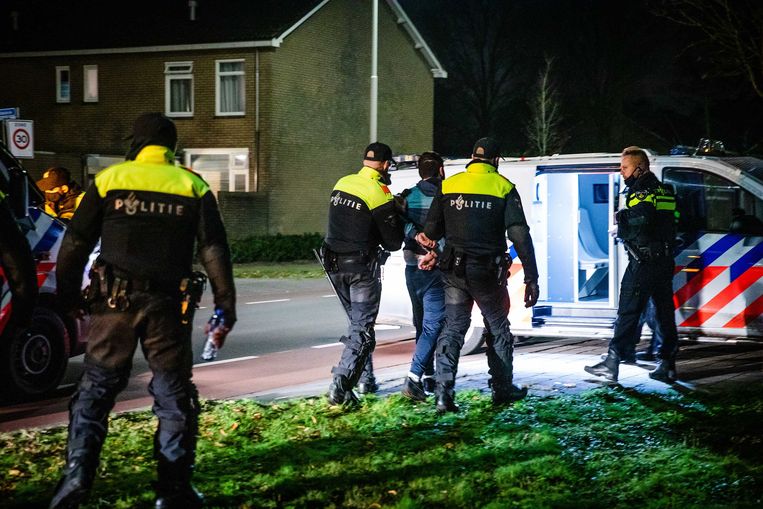 Is this fireworks nuisance a harbinger of what awaits us at the turn of the year?

That is still the question. In recent years it has always been restless in various places in the country with New Year's Eve. 'We prepare ourselves for an intensive New Year's Eve as standard,' says Verkuijlen of the national police. But he does point out that the fireworks ban means that an enormous lot worth 70 million euros, which is normally sold in Dutch fireworks shops, is lost.
'There is a group that buys it abroad or orders it via online trade – in part these are also the people who are already causing nuisance,' says Verkuijlen. 'There is always a group that wants to riot, set fire to cars and commit vandalism. But that does not alter the fact that now at least the large bulk of 70 million euros worth of fireworks has disappeared. '
The mayor, police and judiciary will set priorities about enforcement locally. Each city has a different risk profile. 'Our priority is: public order and compliance with the corona measures, and then enforce the fireworks ban,' says Verkuijlen. 'Our goal is to relieve healthcare and to keep large groups apart (to prevent superspreading events). That's more important than going for every bang. '
He emphasizes that the police will not just let everything run its course. When people call about fireworks nuisance, she will drop by. Verkuijlen: 'But there is actually not much difference with other years with regard to abuses surrounding fireworks. Because it will probably concern groups that also caused nuisance in other years. '