The new cabinet will announce on Friday evening how it will continue with the corona measures in the Netherlands. Lately, the regime has been stricter here than in many countries around us. Shouldn't we learn to live with corona, it sounds more and more often. A tour of Europe.
SPAIN: Here it is now called the 'flu' of corona

After two years of agony, Spain seems to (want to) announce the end of the corona crisis almost casually. First there was Prime Minister Pedro Sánchez, who stated at a meeting of his social-democratic PSOE last Friday that the coronavirus is turning into a nuisance "we have to learn to live with, as we do with many other viruses."
Last Wednesday, Health Minister Carolina Darias went over that. According to her, it is 'desirable and necessary' to talk about a new approach to the corona crisis, a discussion that Spain wants to stimulate in Brussels. Of course, the current wave of contamination must have calmed down first, Darias said for the sake of completeness. But: 'Everything indicates that we are moving towards an endemic situation over time.'
The language reflects the policy. Despite a corona wave that breaks daily records – a staggering 180 thousand infections were reported on Wednesday, about 3,100 per 100 thousand inhabitants in the past two weeks – the government of Sánchez is not talking about new measures. It is a risk that Spain is willing to take, now that the vaccination rate (90 percent of the population older than 12 years is vaccinated) can hardly be higher and the evidence that the omikron variant makes less sick is piling up.
The fact that the country is in the middle of a high corona wave can only be seen on the street by the mandatory mouth caps. Other than that, life is almost as usual: restaurants and bars are open, as are museums, theaters and cinemas. In some regions, with Madrid in the lead, even the nightclubs bulge until the early hours. A QR access code does not exist in the capital.
Other relatively hard-hit regions, such as Catalonia, are more wary. Here a waiter has to ask you for a corona ticket, you can invite a maximum of ten guests at home and there is a night clock between 1 and 6 am, at least until next week. The corona policy in Spain is not much more than that. The catering industry is open everywhere (but sometimes with a limited number of places), the cultural sector can breathe and the shop staff has to hurry in the traditional sale after Epiphany.
Will that continue to go well? It is getting busier in hospitals: a quarter of all beds in the ICUs are now occupied by covid patients. Important, but not extremely urgent operations are being postponed. The GP posts can hardly handle the influx of people who think they are infected. Companies are struggling with the loss of personnel, although it makes a difference that in Spain, unlike in the Netherlands, you do not have to quarantine after close contact with an infected person if you are fully vaccinated.
According to health minister Darias, the peak of the wave is in sight: the infection figures show a cautious slowdown in growth. By vaccinating children aged 5 to 12 (37 percent have had a first shot), she hopes to prevent a resurgence of the virus in the classrooms. In the meantime, her ministry is finalizing a plan to monitor Covid infections less precisely after the current wave. No longer will every hospital and every GP post have to report all infections. According to Darias, this fits in with what the Spanish media call 'the worsening' of the corona crisis.
Dion Mebius
GERMANY: A vaccination obligation is no longer so obvious

Pubs and restaurants in Germany are open as usual, but those who want to enjoy them must be boosted. Or pricked twice and provided with a negative rapid test no older than 24 hours. Two injections alone is not enough, if you have only one or no injections, you can completely forget about Feierabend – even with a negative test.
At the same time, doubts arise about a general obligation to vaccinate. Chancellor Olaf Scholz wants to present it to parliament in February, whereby members of the coalition parties can vote according to their own conscience. A first probing debate has been postponed for two weeks, to the week of January 24. Continuing uncertainty about the long-term effectiveness of vaccination and its effectiveness against the omikron variant has sparked debate.
In addition, omikron reduces hospital and IC admissions, causing more and more MPs to doubt the need for a vaccination obligation. Nevertheless, epidemiologists emphasize that, despite a relatively low hospitalization rate, omikron can still cause large absolute numbers of admissions, as omikron infects many more people than previous variants.
It is therefore difficult to arrive at a draft law, let alone vote on it. This is also because nobody seems to want to burn their political fingers on it. Scholz is in favor of a vaccination obligation, but says that drawing up legislation is a task for parliament. For now, no one is picking up that glove. However, alternatives are circulating, such as a duty for the over-50s – following the Italian example – or an extension to many more professional groups, such as in all crucial infrastructure, for example.
Remco Andersen
POLAND: The country is living with the virus, at a high cost

When the omikron variant of the coronavirus appeared at the beginning of December, the Polish Minister of Health spoke of a 'game changer'. But the Polish government did not take any drastic measures, with the exception of closing the schools until January 9. However, plans are being made to make compulsory vaccinations for healthcare staff, teachers and uniformed services from March.
In this way, Poland remained one of the outsiders in Europe. While many countries have opted in recent months to restrict unvaccinated or untested people, there is no 2G or 3G in Poland. There is an occupancy limit for unvaccinated people in, for example, restaurants. But this produces so much computation that it is neither monitored nor enforced. Pretty much everything is open.
For example, Poland seems to be living with the virus, but for the time being at a high price. The low vaccination rate (56 percent) is taking its revenge. After a peak in December, the number of infections is still high, experts fear the consequences of the fifth wave. Hundreds of people die every day. This week, the official death toll from the pandemic surpassed 100 thousand. The number of corona victims may be even higher: the excess mortality since the start of the pandemic is 180 thousand. Among those extra 80,000 deaths, there may also be corona victims.
Arnout le Clercq
FRANCE: The idea here has been 'learning to live with the virus' for a long time

In light of the advancing omikron variant, France is doing what it has been doing for months: pulling the vaccination card. President Macron, who is expected to run for president in April, hopes to avoid further restrictive measures.
Macron has been talking about learning to live with the virus since April last year, possibly with an annual repeat dose of vaccine. The strategy is not to eradicate the virus, but to ensure that the hospitals do not collapse.
Discos are closed for the time being, but a lot is otherwise possible – the catering industry is open, although sitting consumption is mandatory, and for major events there is a limit of 2,000 visitors inside and 5,000 outside. Employees who can work from home are obliged to work from home for at least three days a week.
The booster campaign is well underway. A repeat appointment is possible from three months after the last injection. In addition, the government wants to convert the health pass, which has been mandatory since the summer in the catering industry and on long-distance journeys in public transport, to a vaccination pass (for which the booster is mandatory). A negative test certificate then no longer provides access. The vaccination pass was scheduled to be introduced on January 15, but was delayed after Macron said he wanted to make life difficult for unvaccinated people. This drew him into a storm of criticism.
Eline Huisman
SWEDEN: New restrictions, and they go further than usual

Sweden experienced a coronal autumn, but since December the graph has been rising here too. More than 22 thousand new infections are now registered every day. In November it was still 1,000 a day. Due to the 'extreme' increase, new measures will come into effect this week. The vaccination pass (Sweden does not use a corona pass) will apply to meetings of more than fifty people. Cafes must close at 11 p.m. and groups of more than eight people are not allowed in. In addition, citizens are urged to work from home as much as possible and to avoid parties and parties. It was previously decided that stores would be allowed to let fewer customers in at the same time.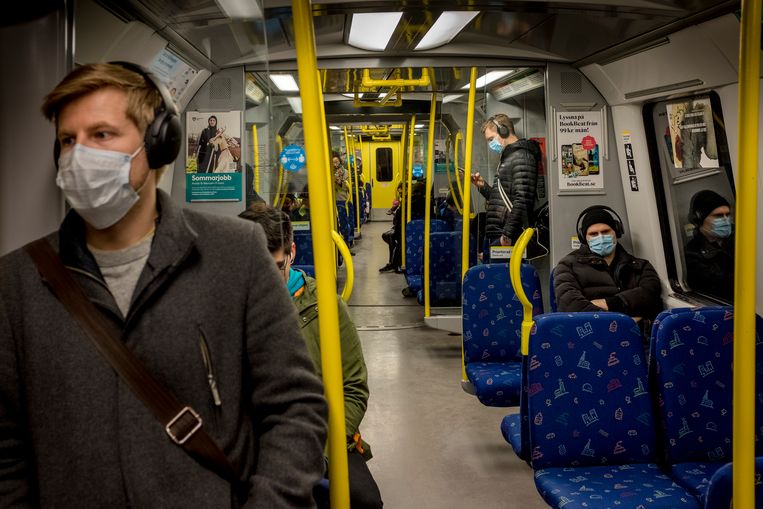 The restrictions are not too bad, but go relatively far for Sweden, which prefers to invoke civil responsibility rather than obligations. For example, face masks are not mandatory in public transport.
The omikron wave has increased the pressure on hospitals, but not extreme. There are 100 patients in intensive care. State epidemiologist Anders Tegnell said this week that it is still too early to treat corona as an ordinary disease. 'It could be, but we have to wait and see. Until now there have been constant surprises.'
Jeroen Visser
ITALY: 2G policy sets the tone, those who don't have a shot can do little in public life

As of February 1, you need 3G proof in Italy to enter government offices and shops. In any case, there will be exceptions for pharmacies, supermarkets and reporting to the police, which once again confirm how strict the rules are.
Those who do not get vaccinated have less and less to look for in Italian public life. Prime Minister Mario Draghi is fully committed to 2G policy, with an exception to 3G only in the workplace and for a few essential services. A general vaccination obligation will even apply to people over 50, including at work.
Italy is therefore not thinking about considering corona as a 'normal' endemic disease for the time being, especially now that the pressure on hospitals has increased considerably after the holidays. However, Draghi is determined to avoid new closures, which Italy has not seen on a large scale since the end of last winter.
He stated on Monday that these cannot be justified now that the problems of the virus mainly occur in the unvaccinated part of the population. In the meantime, cautiously optimistic sounds are coming from Lombardy, where the omikron variant first spread: the first signs that the peak has been reached would appear.
Rosa van Gool