Diego Armando Maradona passed away on Wednesday. Immediately the question arose: was he the best football player ever? A search for the answer based on statistics.
For millions of fans, their all-time favorite footballer has passed away. The question of whether Diego Armando Maradona is also the best of all time according to statistics is more complicated. What is more important: the impact of a player on his absolute peak or the longevity of his world performance?
The peak performance of Maradona, in the year 1986, comes very close to the numerical pinnacle in the history of top football. In the 1986/87 season, he leads his club Napoli, with 17 goals in 41 matches, to a domestic double. The southern Italian formation won both the Serie A and the Coppa Italia that year. That is a sensational achievement, because before the arrival of Maradona to Naples in 1984, the club ended two seasons in a row in the right row in the Italian league, and the club has never been the national champion in its 58-year history.
But Maradona saved the very best of his game for his national team in 1986. Not only in terms of memorable goals and actions Maradona has an unprecedented World Cup in Mexico. He single-handedly leads Argentina to the world title and, according to the numbers, plays the best World Cup in history despite a record number of fouls committed against him.
Where in the club football of the eighties no individual figures were actually kept apart from goals, statistics agency Opta Sports has collected all data from every final tournament in national football since 1966. It provides a fascinating insight into Maradona at its absolute peak.
Gary Lineker

In the national tournament, Maradona finished second on the top scorers list with 5 goals, behind the English striker Gary Lineker (6 goals). On the list with the most assists, the Argentinian is at the top of the '86 World Cup: he prepares a goal five times. Maradona is the only player who has scored 5 goals and 5 assists at a World Cup since 1966. Maradona's total commitment to 10 goals at a World Cup has since been unmatched.
But his input continues. With 30 shots and 27 chances created for teammates, he is involved in a staggering share of 57 of Argentina's 101 goals in the tournament. In his 7 duels in Mexico, Maradona passes an opponent with a dribble 53 times – the highest total of successful dribbles in a single tournament in World Cup history measured by Opta. In other words, in the time of professional football, an individual has never completed a more effective World Cup.
Maradona and the World Cup is a happy marriage anyway. While his club career was almost over around the age of thirty, Fluff was indispensable on the international stage for a long time. He competes in the final tournaments of 1982, 1986, 1990 and 1994 with a total of 21 World Cup matches. Maradona is therefore still the Argentinian who has played the most at a world championship. In the entire World Cup history, there are only three players who completed more duels in the final tournament: Lothar Matthäus (25), Miroslav Klose (24) and Paolo Maldini (23).
Violations

In his first three World Cups, Maradona is extremely dominant as a ball virtuoso. Opponents have only one remedy for little Argentinian's ball skills and gears: kicking, kicking and kicking again. In 1982 Maradona was stopped 36 times with a violation, in 1986 even 53 times and in 1990 no less than 50 times. In World Cup history since 1966, Maradona is in first, second and third place in the list of players with the most violations against in a final tournament. His total of 8 World Cup assists is also still unmatched.
As a pure dribbler, Maradona also belongs to the outside category at the World Cups. With a total of 105 successful dribbles, his lead over number three (Jairzinho, 78), four (Mario Kempes, 61) and five since 1966 (Eden Hazard, 60) is astronomical.
Not entirely coincidentally, the most industrious World Cup dribbler in tournament history is also the player who complicates Maradona's claim to the title of 'best of all time': his natural successor Lionel Messi (110 successful dribbles in 19 duels). Because if football is seen purely as a game of goals, Maradona simply has not had as many peak years as those other tiny, Argentinian ball virtuoso.
Maradona, who as number 10 or second striker always played in a free, creative attack role, has only really been a goalscorer in his teens. As a very young talent at Argentinos Juniors (1976-1980), where he made his professional debut ten days before his sixteenth birthday, he won no fewer than five six-monthly top scorer titles in his last three seasons. At his first employer he eventually scored 116 goals in 166 league matches.
Creative

Also in his first periods at Boca Juniors (1981; 28 goals in 40 games) and Barcelona (1982-1984; 38 goals in 58 games) Maradona scored happily. But in the years when his international impact was greatest, the seven seasons with Napoli between 1984 and 1991, Maradona was more of a creative than a pure goal-getter.
With a total of 115 goals, the Argentinian has been the Neapolitan club top scorer of all time for 26 years – until another club icon, the Slovakian midmid Marek Hamsik, kicked him out of the books in 2017 – but in the sky blue jersey Maradona only came in. one year (1987/88; with 21 hits) to a season total of more than twenty goals.
And that is the big difference with its natural successor. Where Messi and Maradona are completely stylistically similar, as left-footed dribbling virtuosos with unprecedented explosiveness, agility and control with the ball at the foot, the current Barcelona superstar is simply a more purposeful football performer. It is a source of inexhaustible creativity and machine effectiveness.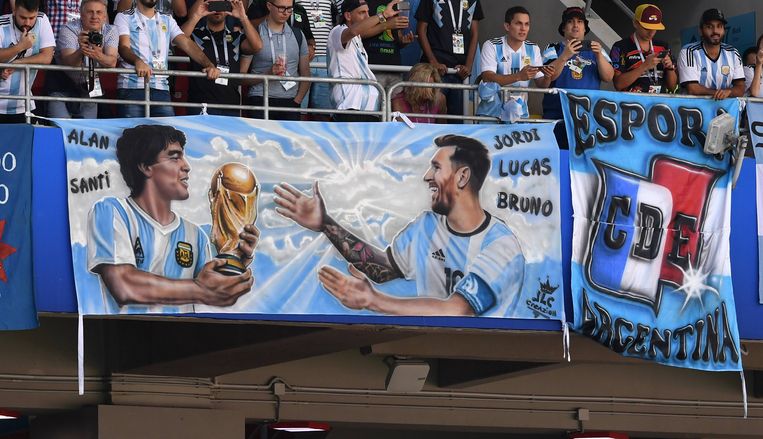 Messi reached all Maradona's career total of 312 club goals during the 2012/13 season, at the age of 25. And Leo has casually continued at the same scoring pace ever since. Last season, Messi, who now stands at 640 goals in 742 official matches at Barcelona, ​​even doubled his idol's club total. Between 2010 and 2013, Messi scored more goals in three seasons with Barcelona (186) than Maradona did in his ten seasons in Europe (161).
Where Maradona scored at least 25 goals for his clubs in four seasons (each time in Argentina, between 1978 and 1981), Messi's counter now stands at twelve seasons with more than 30 goals for Barcelona, ​​including ten seasons with a goal total of more than 40 and even six seasons with a grand total over 50.
But Maradona, El Pibe de Oro (The Golden Child), at its peak, did what Messi still hasn't and probably won't do: single-handedly lead Argentina to the World Cup title, in an enchanting style.
What about Pelé?

Edson Arantes do Nascimento, or Pelé, led Brazil to three world titles (1958, 1962 and 1970) and came to a goal total comparable to that of Messi (757 in 812 duels for club and country). Is he the best of all time? A tricky question. First of all, because the Brazilian celebrity played at a time where, apart from goals, no figures were kept at all. The fact that a large part of his achievements cannot be viewed on screen also hides Pelé's claim to the title of the world's best ever.
However, there are circumstances that speak in favor of the two Argentines. At their clubs, Maradona and Messi played week in, week out against the best defenders in top international football, while Pelé spent his peak years at home with Santos, in the slightly less balanced Brazilian league. The Brazilian only moved abroad at the age of 34, when he signed with the New York Cosmos.
In addition to Pelé's unprecedented performance as an international, it should be noted that he won those three world titles in teams with other superstars in the team, such as Garrincha, Zito, Jairzinho and Rivelino. Maradona did not have elite helpers of that level in '86. Pelé himself does not get involved in the discussion. In a first reaction to the death of Maradona, he says on Twitter that he is 'very sad to lose a friend in this way'. His wish: to be allowed to kick a ball in heaven with Diego one day.
Also read

Posthumous Maradona: The dribble is dead
Everything was beautiful about the footballer Maradona in his heyday. His name alone: ​​Diego Armando Maradona. A dribble in itself. Willem Vissers wrote a posthumously of the deceased football player.
Three days of national mourning in Argentina: 'Diego lived longer than expected, but shorter than hoped'
President Fernández announced three days of national mourning on Wednesday after the death of Diego Maradona. "There is no Argentinian who does not shed a tear now."
Photographer Guus Dubbelman about his iconic Maradona photo
On June 25, 1986, 114,000 spectators were seated at the Aztec Stadium in Mexico City. Diego Maradona was unleashed at the World Cup, he also got the Belgians on their knees in the semi-finals. After the 2-0, just like Maradona's 1-0, photographer Guus Dubbelman printed for a picture for eternity. 'The ground moved, so fast and strong he was'