Bauke Mollema himself was most surprised on Wednesday by his gold medal at the Dutch National Time Trial Championship. The 35-year-old rider has never been a time trialist and took part in the national championship in this discipline for the first time in Emmen, but beat four-time champion Tom Dumoulin by a big difference.
After his sensational debut at the Dutch National Time Trial Championships, Mollema had to recover from the surprise on an orange bench that he will be allowed to ride in red, white and blue next week, when the Tour de France starts in Copenhagen with a time trial. "That's a kick, yes," he said. "I've never ridden in a championship jersey before."
In consultation with his team, the Trek-Segafredo veteran had already decided in the spring that he wanted to work on the Dutch National Time Trial Championship. "Time trials never ran great, especially on the flat I did not come close to specialists such as Tom Dumoulin or Jos van Emden. But in recent years it has been getting better and better. Then I thought: let's give it a try."
Last month Mollema proved with a fourth place in the second time trial of the Giro d'Italia that he can now also belong to the world top in this discipline. He has no regrets that he did not focus on the time trial bike earlier.
"Because I don't think I would have had a chance before. Today was a really great day. Everything was right: the material, my position on the bike. But I never expected that this would be possible. I secretly hoped for a medal."
Mollema has won a time trial only once in his career, in the Tour of Alberta in 2016. "On a regular bike, time trial bikes were banned there."
NK time trial results
1. Bauke Mollema: 33.03 min

2. Tom Dumoulin: +0.31 min

3. Daan Hoole: +0.33 min

4. Jos van Emden: +0.45 min

5. Elmar Reinders: +0.51 min

6. Julius van den Berg: +0.52 min

7. Marien Bogerd: +1.00 min

8. Brian Megens: +1.01 min

9. Tim van Dijke: +1.11 min

10. Sebastian Langeveld: +1.18 min
Dumoulin is disappointed after second place
Dumoulin has won a time trial seventeen times in his professional career, four of which at the Dutch National Championships. The 31-year-old Limburger, who will stop cycling after this season, wanted to "unpack" one more time at his last national championship, but that did not work out. "In terms of suffering yes, in terms of result not."
The four-time champion had a difficult start and started grumbling on his first race kilometers since he got off the Giro d'Italia due to back problems. "That man didn't hold me well, I was in danger of falling and had to hit the ground with my foot."
The 31 seconds he was short on Mollema could not have been explained. "No, definitely not. I just wasn't good enough. I'm disappointed and disappointed."
The podium of the Dutch National Time Trial Championship, with Tom Dumoulin, Bauke Mollema and Daan Hoole from left to right.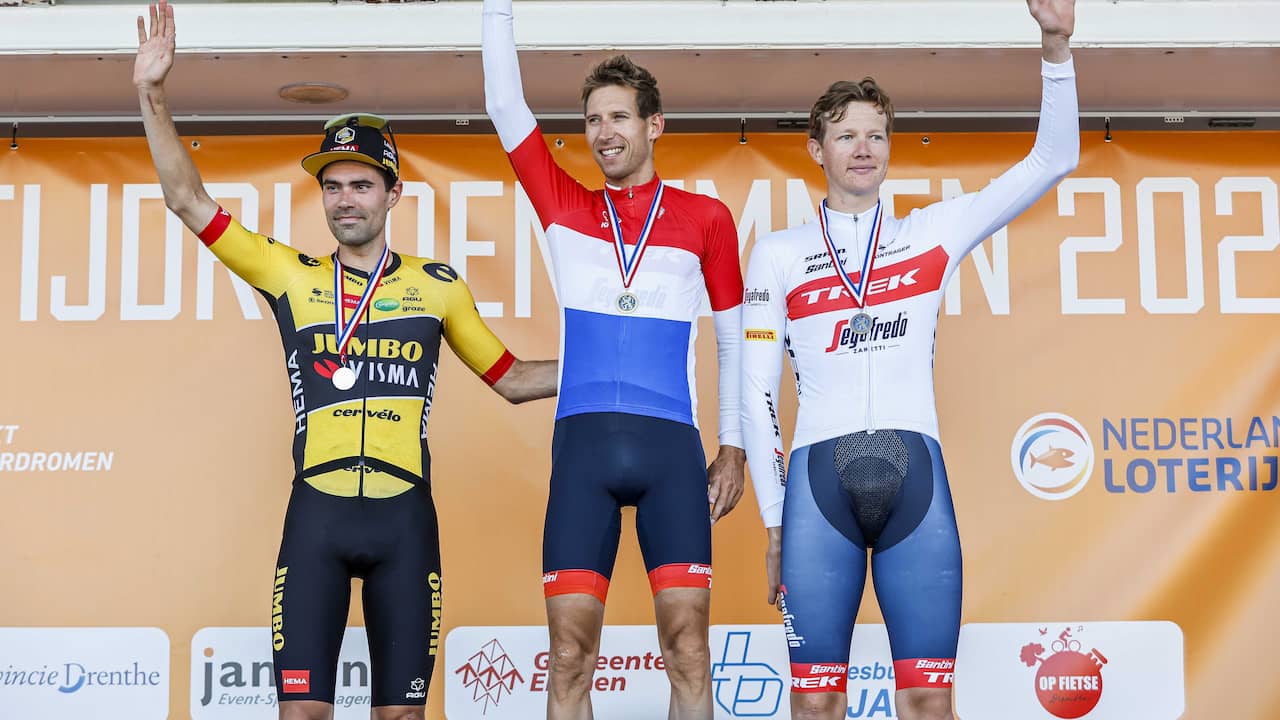 Read all about the Tour de France on our special page
†