TVs, mobile phones, cars and electric toothbrushes are likely to become more expensive in the near future, if they can be delivered at all. A global chip shortage leads to price increases and delays. Chip manufacturers cannot keep up with demand, while sales fell before corona. Why are there not enough chips available? And is the end of the deficit already in sight?
Computer chips are no longer just used in computers. Less than a third of the new chips are in laptops and PCs. An almost equal part of the chips mountain is used for means of communication, such as mobile telephones. Bad news for Apple fans eagerly awaiting the new iPhone: the delivery is seriously delayed. About 11 percent is purchased by the car industry. The industry will lose $210 billion in revenue this year because of the deficit, calculated the American research and consultancy firm AlixPartners.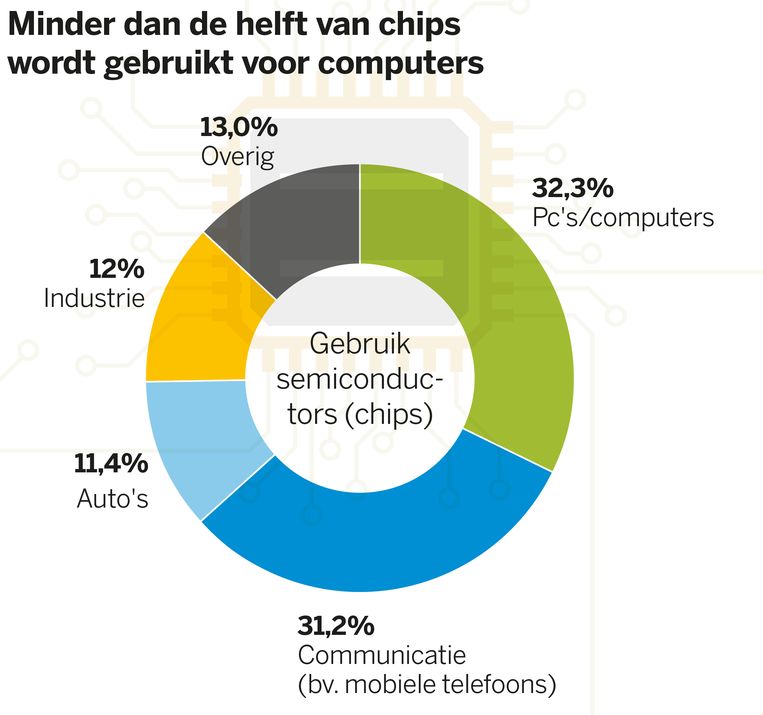 About 13 percent of the chips are used for other products. Lamps, doorbells and toasters are increasingly equipped with 'intelligence'. Philips had to adjust its profit forecast this week, in part because the company is unable to obtain enough chips for electric toothbrushes.
In 2020, a total of $361 billion worth of chips was sold worldwide, and this is expected to be around 460 billion in 2021, reports industry organization World Semiconductor Trade Statistics (WSTS). But even with this increase, demand is still far from being met.
At the beginning of 2020, the chip industry's biggest problem seemed to be falling demand. In 2019, for the first time in years, fewer smartphones were sold than the year before, and the computer memory market was disappointing. In the last quarter of 2019, the revenue from chips sold was almost 10 percent lower than in the same period a year earlier. And at the beginning of the pandemic, many car manufacturers decided to order fewer chips as a precaution, after which chip manufacturers reduced production.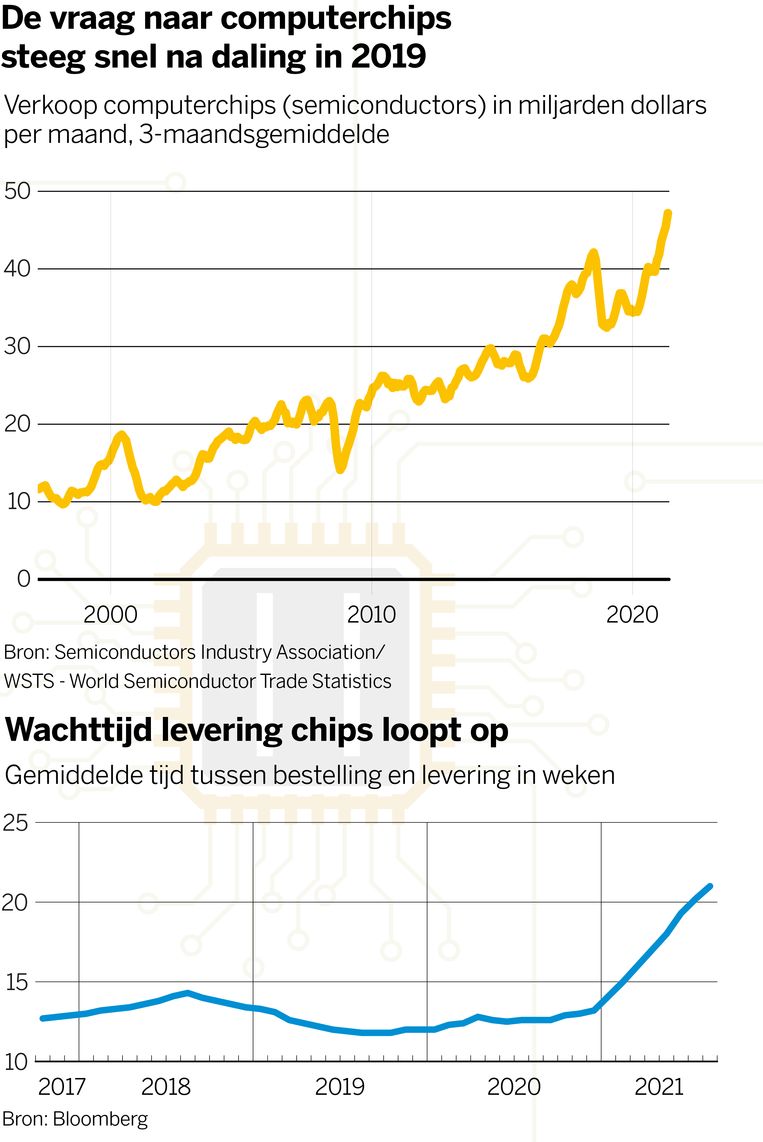 In the meantime, schools closed and working from home became the motto. Demand for laptops and PCs grew rapidly, and so did the demand for chips, while those same lockdowns severely hampered production. That was not the only obstacle. The world's largest chip maker, Taiwan Semiconductor Manufacturing Company (TSMC), was hit by an unprecedented drought in the country this spring. A lot of water is needed to make the chips. Fire broke out at two large chip factories in Japan. Asahi Kasei Microdevices was hit in October 2020, Renesas in March 2021. Meanwhile, Intel in the United States was still recovering from delays due to severe winter weather in Texas.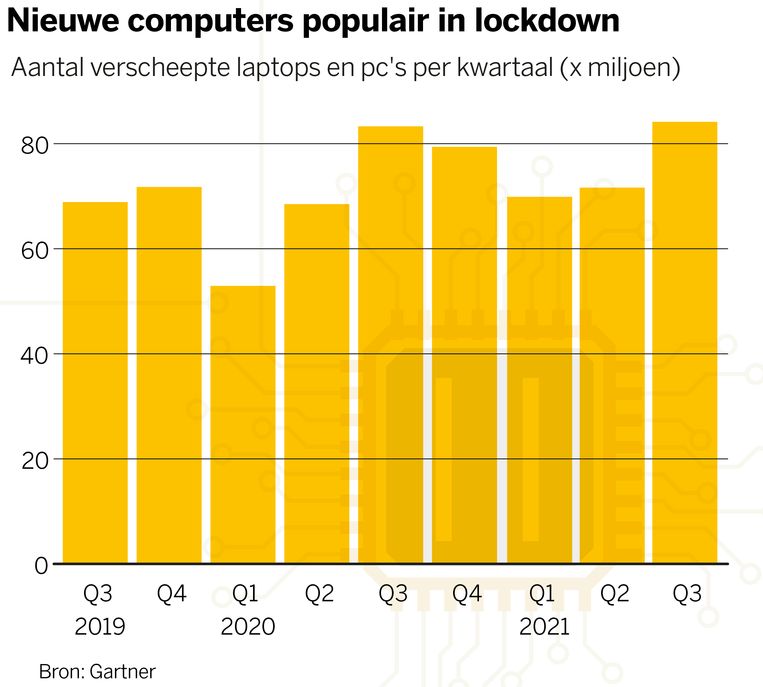 The trade war between the US and China also continued to cause problems with deliveries. Almost three quarters of the production of chips takes place in Asia. In 1990, 80 percent of chips were American or European. The US and the EU want to become bigger players in the chip market again. With the 'Chips for America Act' and the 'European Chip Act', President Joe Biden and President of the European Commission Ursula von der Leyen are trying to reduce dependence on Asian producers. For example, the EU wants to control 20% of global chip production by 2030, a doubling of the current percentage. Any effect of these measures will certainly take a while.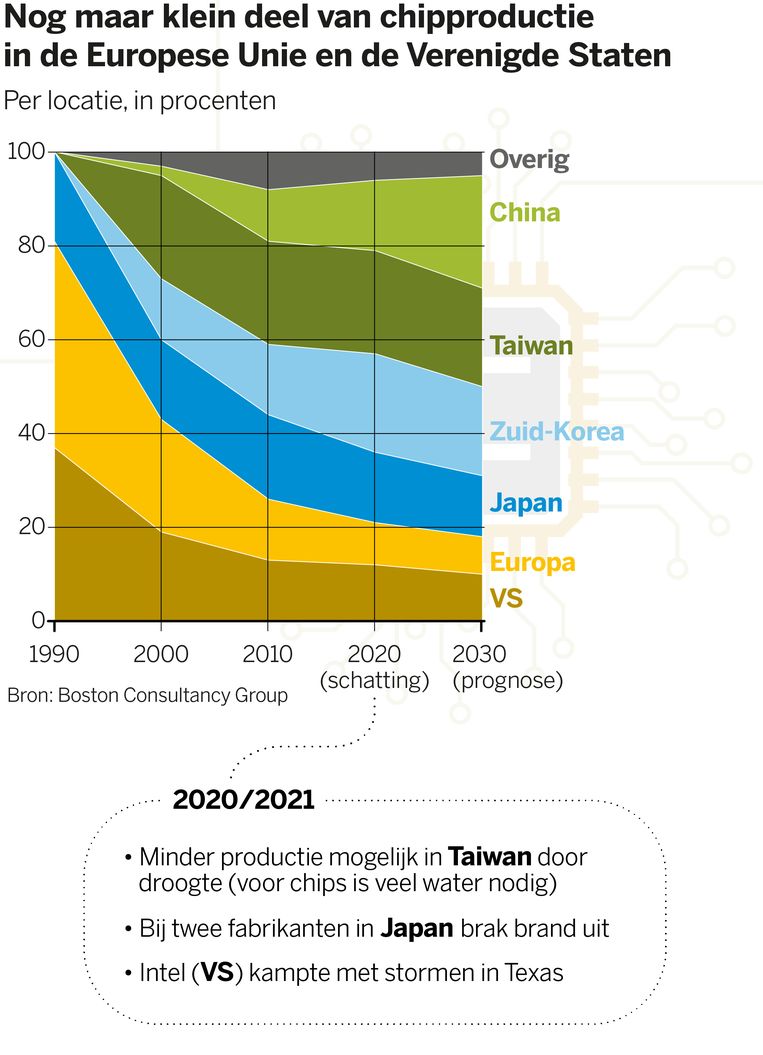 In any case, the chip shortage cannot be solved very quickly, if only because the production of a computer chip can take up to 26 weeks. In August 2021, the wait time from order to delivery was an average of 21 weeks, the longest wait ever, according to Bloomberg news agency. For comparison: in February 2020 the lead time was 12 weeks. Intel CEO Pat Gelsinger expects it to take at least until 2023 before supply and demand are back in balance.