Contrary to expectations, there is a lot of noise in the abandoned temples of Angkor. With the tourists gone, insects have taken over the Cambodian temple complex. The shrill sound of the brown-yellow cicadas reigns continuously from the jungle.
The Buddhist temples are not really deserted either. The guards are still faithful to their posts, often sunk into their phones. And in the Ta Prohm temple, known from the Hollywood film Lara Croft: Tomb Raider, three Cambodian couples are working with a crew for their wedding photography. This is the opportunity for them to make their wedding portrait in a 13th-century setting.
That was impossible before corona. Then hundreds of Chinese and Korean tourists thronged here through the narrow corridors, lined up in front of the wooden selfie platforms and flocked their cameras in front of the site where a tree has grown spectacularly through a wall.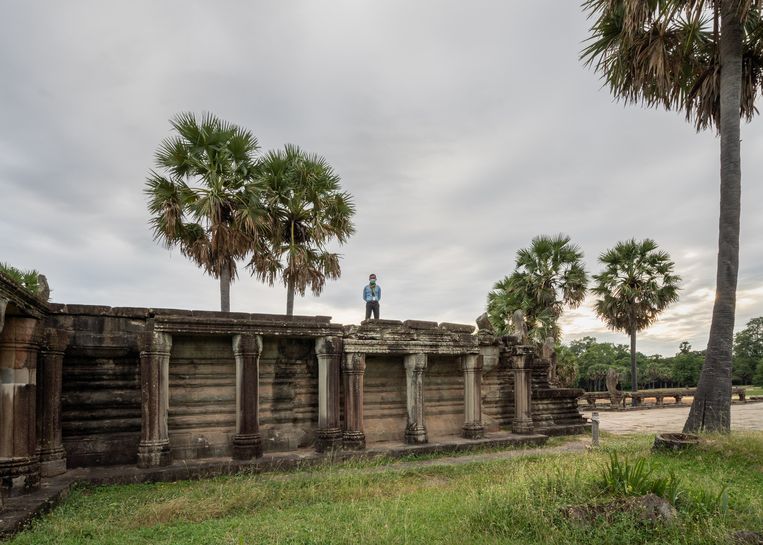 No dog

Last year, 2.2 million tourists came to this world heritage site in the north of Cambodia; a complex of dozens of visually stunning temples that in some places have almost become one with the jungle around them. But because of corona, they stay away this year. Other Asian attractions also have to do without foreign visitors this season. Bali, Sabah, Phuket, Halong Bay and Angkor: no dog is coming.
This is a disaster for the millions of Asians who work in the tourism industry. You see it in Siem Reap, the Cambodian city next to Angkor that has grown thanks to tourism. Everything still functions, but it looks dead. Many hotel doors are locked and you have to search for restaurants that are still open.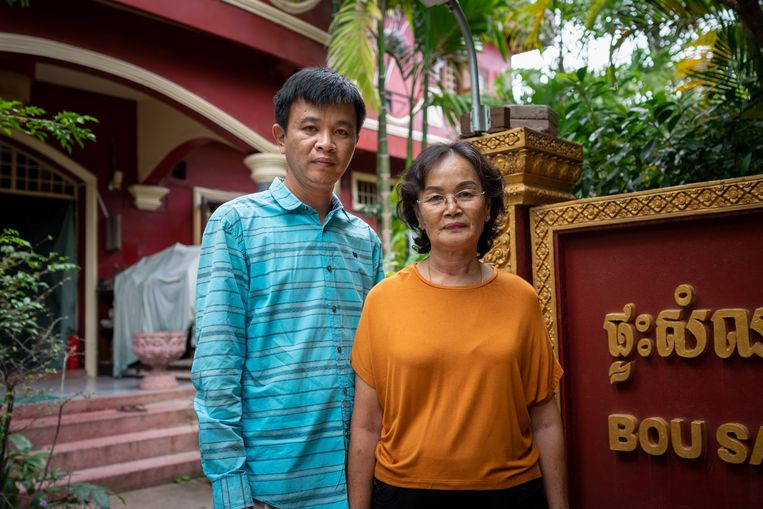 36-year-old Horn Bovorn, owner of Bou Savy Guesthouse, belongs to the small group that perseveres. Often against your better judgment. 'There is zero trade. On weekends and during national holidays we sometimes get a few Cambodians over the floor, but there are really very few. '
Bou Savy is a typical backpacker resort with room rates between $ 10 and $ 30, including breakfast. Normally the hostel was overloaded in December, with mostly French and British guests. Now the travel guides in the bookcase are catching dust and a sheet hangs over the 'authentic' masks that Horn sells. 'In other years I had twenty employees in front of me. Now I'm here alone with my mother. '
In order to eat and pay the mortgage, Horn spent the past few months on his savings. When that ran out, he stopped his children's English tutoring. Then he sold his car and a piece of land in which he had invested. And when that money ran out? Horn shows the bare fingers of his hand. 'I even had to sell my wedding ring. The same goes for my wife and my mother. '
Selling the hotel, Horn's only remaining property, is not an option: the family lives there. "The only thing left is to borrow money from family."
Strict regime

When the coronavirus broke out, Cambodia stopped issuing tourist visas. Foreigners are still only allowed to enter the country with a business visa. They need three corona tests and two weeks of hotel quarantine for that. The other Asian countries have a similarly strict regime. Regional air traffic has been virtually stationary for months and travel bubbles are barely getting off the ground.
Partly because of this firm action, countries like Cambodia, Vietnam and Thailand have the virus under control. But it also comes at a price. In 2019, the Cambodian tourism industry with 6.6 million visitors accounted for a whopping 20 percent of GDP. The government fears it could take seven years for the industry to return to pre-corona levels.
Yet the question whether the economic damage is not too great is hardly posed. Public health is sacred. Government leaders who keep the borders closed find themselves supported by a large majority of the population. In elections in South Korea and New Zealand, the ruling parties won strongly, mainly thanks to the strict corona policy.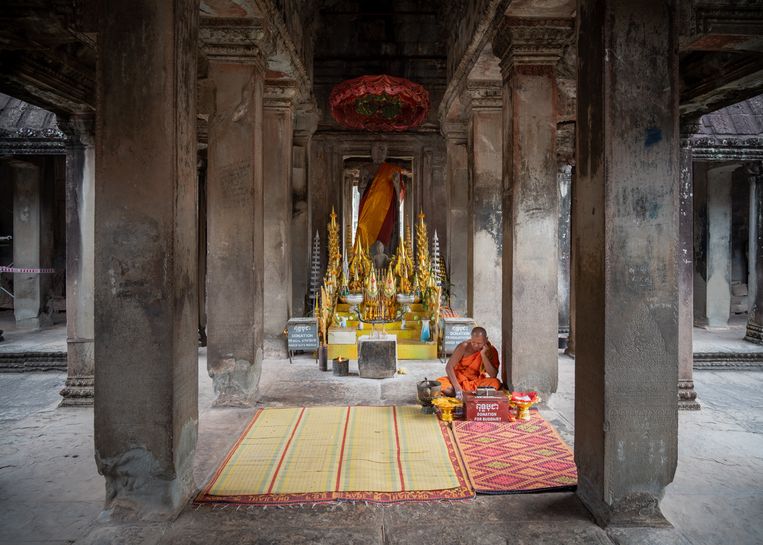 Even among the victims of the measures you hear no discord. Take the 37-year-old travel guide Uk Leda, who has been guiding tourists through Angkor for the past eleven years. She learned English by watching the BBC and CNN, graduated as a tour guide and landed a freelance contract with a major tour operator. In peak season, she sometimes made up to $ 1,300 a month including tips – an astronomical amount for the average Cambodian. Now she has been without work for eight months and therefore without income. Benefits do not exist here. "So far I can manage with my savings, but if it continues for another year, I will be in trouble," says Uk.
She talks emotionally about her friends in Siem Reap, for whom the situation is more difficult. They have children and mortgages that have to be paid. "They are forced to carry stones in the building for $ 8 a day."
Still, UK supports Cambodian Prime Minister Hun Sen's decision to ban tourists. "I'm not normally a fan of him, but in this case he's doing well," said Uk. "Cambodia is a poor country and if the virus spreads here it will be the poor people who suffer and die."
Homegrown travelers

Some countries in Asia are trying to stimulate domestic tourism to compensate for the decline in foreign visitors. For example, Vietnam launched the campaign 'Vietnamese travel in Vietnam', to fill the resorts with homegrown travelers. Hotels in Cambodia also display large discount promotions to attract holidaymakers. The problem is not only that many people in these countries cannot afford a holiday at all. The middle class that do go out often spend much less than the foreigners.
As a result, 'Pub Street', once Siem Reap's party center, has now become a macabre place. The neon lights are out, the Angkor What? Bar dark and dense and in the Temple Club the furniture is stacked together. The waitresses, bartenders and cooks have disappeared, as have the tuk-tuks – motorbike taxis with carts – that drove the tourists back to the hotel after going out.
38-year-old tuk-tuk driver Morm Meurt was one of them. During the day he drove groups of tourists past the temples of Angkor. During busy weeks he spent the night in his tuk-tuk. His income was between $ 200 and $ 300 a month, enough to pay the monthly mortgage and send his two children to school.
Now we find Morm, wearing a football shirt of the Italian national team, at his parents' pig and frog farm in the hamlet of Leang Dai. Like many others in the tourism industry, he is back in his home village.
Morm shows five just-closed ponds, each in which about a thousand frogs swarm. They are intended for private sale, but this is slow. 'These are not easy times, because people have little to spend. '
Thanks to the farm's proceeds and the fact that his wife has kept her job as a cleaner in one of the Angkor temples, the family can still afford the regular costs. But fun is different, emphasizes the farmer's son would rather jump on his bike today than tomorrow. 'I miss work als driver. All I have to do now is feed the animals. Furthermore, I just walk around to gather wood, 'says Morm. "I'm bored to death."
Thailand (40 million visitors per year, tourism 20 percent of GDP)

Thailand is one of the first countries in Asia to welcome tourists again. The country introduced a 'special tourist visa' for foreigners who promise to stay in the country for at least thirty days. The visa is valid for a maximum of 270 days. Travelers do have to quarantine for two weeks after arrival, but the Thai tourism minister spoke of a 'wellness quarantine with massages, spa and golf'.
Initially, the visa was only available to travelers from 'safe countries', especially Chinese tourists. China is the main supplier for the tourism sector: 11 million Chinese arrived in 2019 and that yielded at least 15 billion euros for Thailand. The problem is that China is asking its citizens to go on holiday in their own country for the time being. So not Phuket this year, but Hainan.
Because the turnout from China was disappointing, the tourist visa is now available to everyone. The price including quarantine is 760 euros per person. It raised the question here and there whether Thailand is pre-sorting for a different kind of tourists. The Thai government has been calling for more quality tourism for years: fewer backpackers, sex tourists and group travelers and more well-spending tourists from the middle class and above. Perhaps the corona crisis will turn out to be a turning point.
Bali (6.3 million tourists per year, 60 percent GDP)

A striking report from Reuters news agency this autumn: "Residents of the Indonesian island of Bali are planting and trading seaweed again, ten years after this trade died a soft death."
The corona crisis has also seriously affected Bali. 'It is very difficult for most residents,' says Julie van der Meer Mohr (33), a Dutch who is married to a Balinese and has lived there for twelve years. "They don't have a piggy bank and now that there is no work, they have trouble putting enough food on the table."
And so the Balinese have to look for alternatives. Like selling seaweed or working on the land. 'A boy I know makes kites. Many Balinese are cooking again. '
Although many residents have financial concerns and have had to sell their car or motorcycle, Van der Meer Mohr also sees many fellow villagers flourishing. 'They are more relaxed. Many young people notice that it is nice to no longer have to stand by the roadside for little money all day for little money. '
Van der Meer Mohr works on behalf of the Belgian foundation VP Forever on a school where Balinese young people can learn crafts that they can use outside the tourism sector. Skills such as website building, graphic design, hair cutting and teaching. 'Many young people want something different, but don't know where to start.'
Whether the pandemic will cause a culture change is very much the question. The first resorts on the island are already advertising the Christmas holidays, in anticipation of a possible decision by the Indonesian government to allow tourists to return to Bali. "Most of the time is up for the tourists to return."