President Erdogan is like the little boy who stuck his head through the bars of the school gate and now can't go back. While the lira, Turkey's currency, has hit an all-time low, the president is sticking to his policy of cutting interest rates.
Cutting interest rates while inflation is rising goes against all economic logic, but Erdogan is stubbornly sticking to it. On Tuesday, he said in an interview on state broadcaster TRT that there is "no return" and that he will certainly stick to his monetary stance until the 2023 elections. After the interview, the lira plunged again. The currency lost 8 percent against the dollar.
Erdogan has professed his belief in low interest rates many times. A slew of central bank executives were fired for not being obedient enough, the president said, or for serving as scapegoats for economic problems.
High inflation is particularly affecting citizens. Savings evaporate, the prices rise, including basic necessities. On Friday, when the figures for November are presented, inflation may rise above 20 percent. The lira has already lost 47 percent of its value this year; 30 percent in November alone. With every interest rate cut since September, the currency has fallen further.
Meanwhile, Erdogan continues to act as if nothing is wrong. "We have moved to a strategy of growth, focused on investment, employment and exports," he said in parliament on Tuesday. "Interest is an evil that makes the rich richer and the poor poorer." The pro-government newspaper Daily Sabah opened Wednesday with the headline "Economy grows 7.4 percent on robust exports."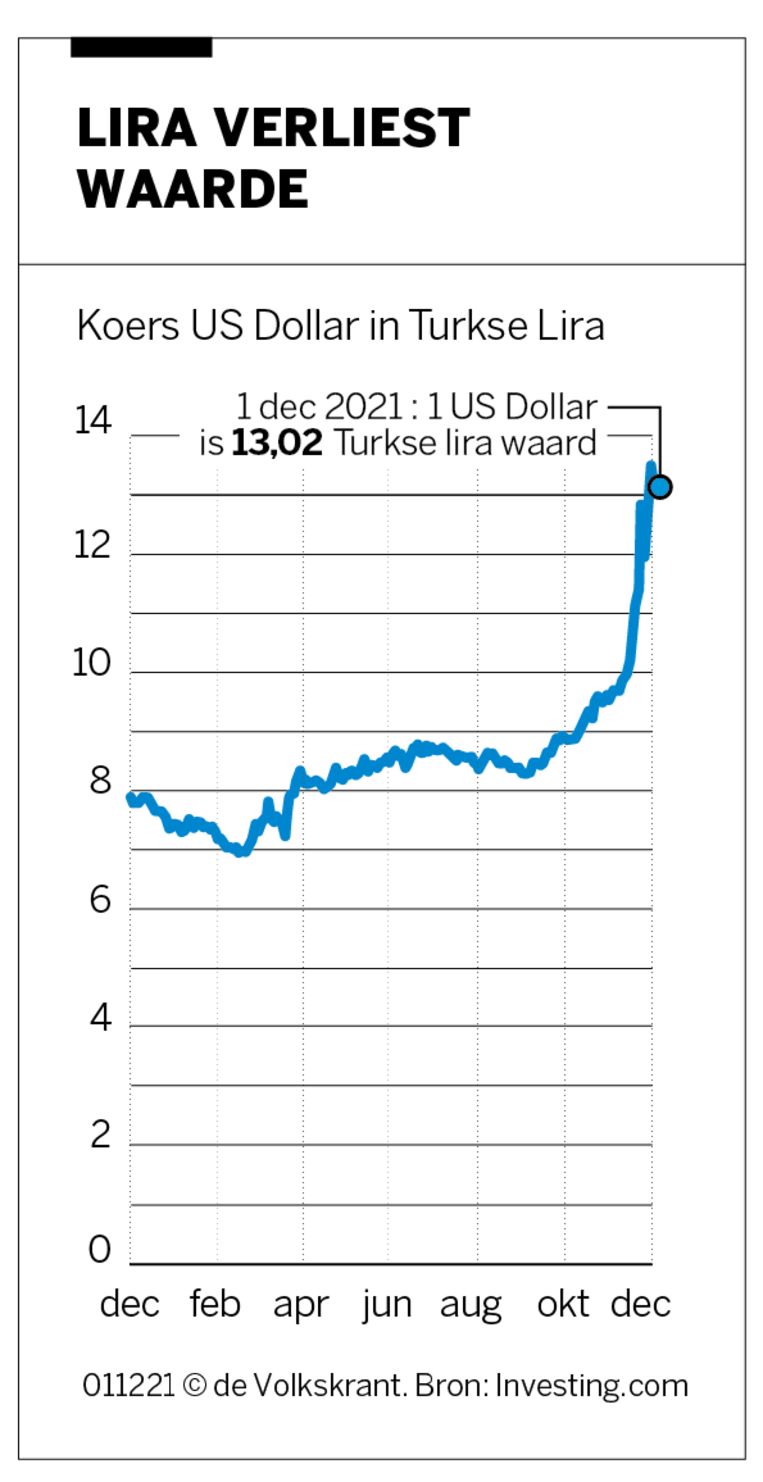 On the other hand, imports are becoming increasingly expensive due to the weak lira. That could fuel inflation further. Many loans are also denominated in foreign currency. "Investors are getting more and more nervous," Allspring Investments analyst Brian Jacobsen told Reuters news agency. "It's a poisonous mixture."
His constant promotion of low interest rates and his promise not to change anything until 2023 means that Erdogan cannot change monetary course without serious loss of face – the bars of the school gate.
Meanwhile, it is precisely his economic policies that could cost him the elections, those for the parliament as well as the presidency. In the polls, the coalition of Erdogan's AKP and the right-wing nationalist MHP has been falling steadily for two years. There is absolutely no question of a parliamentary majority in the polls. All possible opponents for the presidency also score better than Erdogan.
Meral Aksener, leader of the opposition IYI party, said in parliament on Wednesday that the theory that the Earth is flat is taken more seriously worldwide than Erdogan's unusual view of the link between interest and inflation.